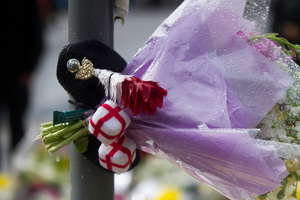 Far-right groups have been accused of cynically exploiting the death of Lee Rigby to provoke racially motivated unrest as reports increase of anti-Muslim incidents since his murder.
A wave of arrests took place around Britain as complaints flooded in to police over racist comments being posted on social media sites. There were reports of graffiti and one petrol bomb attack on mosques.
A march by the English Defence League in Newcastle, planned before the Woolwich murder, attracted three times the 500 protesters that had been expected, outnumbering an anti-fascist march organised in response.
Flags from widespread parts of the country were on display at the protest, along with one marked "Taleban Hunting Club".
Riot police were among about 1000 officers on duty in the city centre and some shops closed as a precaution.
Attacks on Muslims have also increased sharply since the murder.
Faith Matters, an organisation that works to reduce extremism, said more than 160 incidents had been reported to its helpline since the murder, compared with the average of four to eight cases a day before the attack.
Fiyaz Mughal from Faith Matters said there had been "a substantial spike" in reports of Islamophobia, from "general abuse [at] visible Muslims on the street to graffiti at mosques, through to a firebomb at a mosque". He added: "We're asking for cool and calm heads."
Another group, TellMamaUK, which supports victims of Islamophobia, reported a tenfold increase in reports of incidents over the past few days.
Social media sites were hosting dozens of offensive exchanges about "dirty muzzies" by, among others, EDL supporters and people claiming to be "English patriots". There have been a number of arrests over offensive comments.
The British National Party announced it would be holding a demonstration in Woolwich. Saturday's visit to the site of the murder by party leader Nick Griffin was criticised as provocative by Akbar Khan, chairman of the anti-racist and community organisation Building Bridges.
He said: "It is a provocative action. All Muslims have come out and condemned this act of violence. Given the serene and sad atmosphere prevailing in the country, because of this death, he is being very cynical and exploiting the raw nerves for his benefit."
BNP organiser Adam Walker said that a "line has been drawn in the sand and it signals the beginning of the civil war we have predicted for years".
- Observer