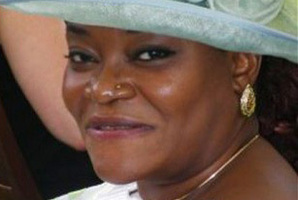 The mother of a suspected Islamic terrorist who allegedly hacked a British soldier to death, tried desperately to turn him away from extremism but "could not get through", say friends.
Michael Adebowale, 22, the son of a Christian probation officer and a staff member at the Nigerian High Commission, was filmed holding a bloodied cleaver after Drummer Lee Rigby was butchered in a London street.
Friends said Adebowale had been a "lovely boy" but became involved in some "serious trouble" as a teenager and had turned to Islam. He mixed with some "bad people" and became increasingly extreme in his views.
His mother Juliet Obasuyi, 43, a probation officer, went to her friend and neighbour, a security officer, 62, for help nine months ago after her son dropped out of university.
She told him her son no longer listened.
"His older sister is a good Christian with a degree but Michael is rebelling as he has no father figure, dropping out of university and handing out leaflets in Woolwich town centre.
"He is from a strong Christian family but he is turning to Islam and turning against the family. He is preaching in the streets. He needs spiritual guidance before he radicalises himself."
Another friend, Steve Adebiyi, said Mrs Obasuyi was often in tears after speaking to him on the phone.
"The boy was giving the mother problems," he said.
"She said he was in with some bad group and causing a lot of trouble. They brainwashed him."
He and Michael Adebolajo, the other suspected terrorist, are thought to have met at Greenwich University.
His mother took him to the Woolwich mosque for spiritual guidance. He was converted to Islam by the head imam, and had weeks of "further training" near Cambridge.
When he returned, he was even more "radicalised" and his mother could no longer "get through to him".
She returned to Nigeria, to pursue a career in politics. Greenwich neighbours said he had been a "lovely boy" but was "angry at a lot of things".
Magdalene Edwards said he "was very gentle natured, very respectful to elderly people.
"About a year ago is when I saw him with this whole Muslim dress, I said to him 'are you a Muslim'.
"He said yes. I said 'just be careful, I'm aware that there are some that ride on the coat tails of Islam and they're really not serving their cause'."