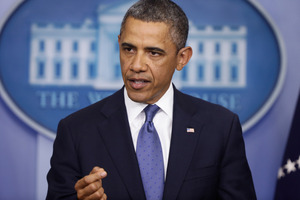 President Barack Obama is outlining measures in a speech today to clarify the deadly use of drones against terror suspects, promising a US counter-terrorism policy that is more transparent and legally accountable.
Yesterday the Administration confirmed for the first time that it had killed four Americans in drone strikes in Yemen and Pakistan but said only one had been deliberately targeted.
The drone strike disclosures are part of a broader White House effort to explain how Obama's policy of targeted killings is consistent with his pledge to ensure US intelligence agencies operate within the law.
The Wall Street Journal reported that the Administration would begin the process of transferring some of the 86 Guantanamo prisoners cleared for release out of the prison.
Eric Holder, the Attorney-General, used a letter to Congress to officially confirm that Anwar al-Awlaki, a US-born al-Qaeda cleric, was targeted in a 2011 strike in Yemen.
The same attack also killed Samir Khan, a Pakistani-American who edited the terror network's online magazine Inspire. Two weeks later the US also killed al-Awlaki's 16-year-old son, Abdulrahman, who was also born in America. Neither of them was deliberately targeted. Holder also disclosed for the first time that Jude Mohammed, a 22-year-old from North Carolina, was killed in a drone strike in Pakistan. He is believed to have travelled there in 2008 with the intention of waging jihad.
Holder said the decision to deliberately kill al-Awlaki underwent "exceptionally rigorous" review and was approved only because he was "a senior operational leader" within al-Qaeda. He promised to give Congress more details of the criteria the US uses before deciding to kill an American terror suspect abroad.
- additional reporting, AP