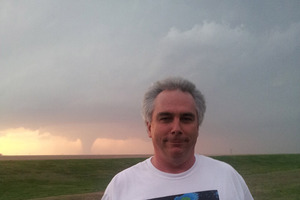 Neill Ellis travelled from his Bay of Plenty home to "Tornado Alley" in the United States to fulfil a lifelong dream.
But what he saw when a huge twister ravaged the community of Moore on the outskirts of Oklahoma City was the stuff of nightmares.
The Tauranga man was the only Kiwi in a group of storm-chasers - the others were Australians and Americans - on a five-week trip to the region, where tornadoes are a regular occurrence.
"These things are amazing to see - they're beautiful - but only when they're out in the fields."
Mr Ellis thought the trip, which he had been planning for years, might be a disappointment because cold weather kept tornadoes at bay for the first couple of weeks.
But things soon picked up and he witnessed at least nine tornadoes, including one last week which devastated the Texas town of Granbury, killing six people.
"The last couple of weeks have been pretty spectacular," he said.
On Monday, the group stopped for lunch in Oklahoma City before chasing some weather systems developing to the south.
"We didn't get that far because we realised that the latest couple of radar scans showed a rapidly developing supercell thunderstorm approaching Oklahoma City on a direct-hit path.
"We did a U-turn and came back into the city. It developed really rapidly and we got ourselves in a spot where we could see it [the tornado] cross I-35 - the interstate highway - pretty much right in front of us."
They were about 1km away from the huge tornado, which spat debris as it shifted towards them.
"The roar from this thing was just incredible. It was a very, very scary noise. I can't describe what it was like, you had to be there."
They fled as it got closer and the debris started getting larger, but returned about an hour later to see if they could help.
"It was terrible. I've never seen anything like it. And we weren't even in the worst-hit side of town."
He and his group helped look for survivors and to recover people's belongings until it was dark, and when police told them to move on.
The group also went to Plaza Towers Elementary, the school demolished in the twister, to hand out sandwiches and bottles of water to rescuers who had spent hours searching through the rubble.
"We saw parents there who were asking questions of us but we didn't know what was going on and that was just terrible. It was probably the hardest part of the whole thing ... They were desperate for answers and nobody had them."
Mr Ellis said he and others who were on the ground were still trying to comprehend what they witnessed.
He flies back to New Zealand on Monday, where he is to resume his job as a biomedical technician.
Kiwi helping to raise funds for victims
A New Zealander helping with fundraising efforts in tornado-devastated Oklahoma says the city is like a ghost town with debris strewn everywhere.
"There's no movement whatsoever where the tornado came through and just destroyed everything. Emotions are running pretty high," said Aucklander Cameron Rhodes.
"Everyone knows someone who's been affected which means we've been affected in some way which I think has pushed many people to take action and to help out in any way they can."
The 19-year-old is based just 15 minutes out of one of the worst hit areas and has been studying at Oklahoma City University since August last year.
He said there was a sense of shock at the destruction among the tight-knit Oklahoma community because the area gets minor tornadoes all the time. There hasn't been one this devastating since 1999 when 50 people were killed. "It's just a sobering reminder of what Mother Nature can do and how quickly things can change."
Mr Rhodes is helping to organise an auction and fundraiser event next week to pull together some money for victims.
They're hoping to get some of the city's sports teams to give gear for the auction and Mr Rhodes hopes to use his rowing contacts at the university to let them use their boat house.
- Amelia Wade
- APNZ