Message of solidarity comes as evidence emerges federal fund shortages stalled storm shelter building plans.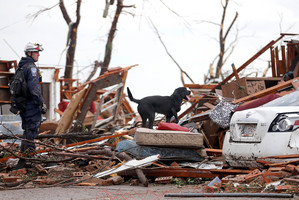 President Barack Obama vowed that the United States would stand behind Oklahoma as it struggled to fill the "empty spaces" left by the devastating tornado with "love and laughter and community".
The President promised the full support of the federal Government and that he would "back up those prayers with deeds for as long as it takes".
Yet even as Obama spoke at the White House, it emerged that shortages of federal funds had derailed Oklahoma authorities' plans to help residents build storm shelters.
Oklahoma City suspended a programme to subsidise safe rooms "due to insufficient federal funding" while the destroyed city of Moore put its plans "on hold" while it battled through a maze of red-tape regulations.
In October 2011, Moore had begun the process of applying for US$2 million to help 800 residents build shelters where they could "seek refuge from severe weather".
Local authorities had hoped to get approval around the end of 2012 but instead found themselves faced with a "constantly moving target" of federal regulations which changed during the application process.
In a frustrated statement released three months before the tornadoes struck, officials said: "The City's safe room rebate program is still 'on hold', with not a lot changed from our update of last May".
They continued: "We've found that the [Federal Emergency Management Agency] requirements and their interpretations seem to be a constantly moving target, more so with the new wrinkles."
The statement added there was "not a lot of grant money available" because the federal Government had made only a limited number of major disaster declarations, which unleash new funds.
The disclosure will raise questions over whether more could have been done in preparation for the storm.
Obama assured the people of Moore that federal authorities would be beside them as they tended to "frightened children who will need our continued love and attention".
"There are empty spaces where there used to be living rooms, and bedrooms, and classrooms, and, in time, we're going to need to refill those spaces with love and laughter and community," he said.