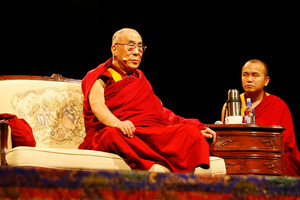 The battle to keep Tibetans under control is inflicting severe psychological damage on Chinese armed police, an internal training document has revealed.
The leaked 25-page training manual was given to members of the People's Armed Police charged with keeping order in Tibetan areas of Sichuan province, which borders Tibet.
Among the advice it offers are ways of dealing with depression and post-traumatic stress disorder for paramilitary troops involved in atrocities.
One section is titled: "How should you deal with flashbacks of brutal episodes?" It refers to an incident in Aba county on March 16, 2011, when a Tibetan monk named Phuntsok set fire to himself in a market, and to a protest on March 18, 2009, in Seda and Ganzi counties where Chinese armed police, confronted by protesting Tibetans, fired into the crowd.
"For some of the troops who joined these operations, there may be brutal scenes that reappear in their minds, causing nightmares and insomnia. These are called flashbacks, a symptom of PTSD," the manual states.
"If you are suffering flashbacks you should close your eyes and imagine that you are zooming in on the scene like a camera. It may feel uncomfortable. Then zoom all the way out until you cannot see anything. Then tell yourself the flashback has gone."
The manual was unearthed and distributed by the Tibetan Centre for Human Rights and Democracy, a non-governmental organisation staffed by Tibetans in exile in the Indian state of Dharamsala, which said it exposed the falsity of claims that life is "harmonious" under Chinese rule.