Sunnis emboldened by Syria rebellion in tit-for-tat neighbourhood violence with Shia.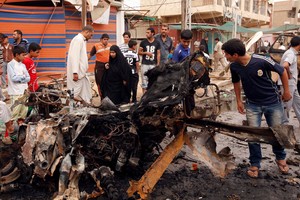 Iraq is edging closer to all-out sectarian war between Sunni and Shia Muslims as a series of car bombings and shootings killed at least 90 people and left many others injured yesterday.
Casualty figures are returning to a level not seen since the civil war of 2006-07. Most of the car bombings yesterday targeted markets, bus stops and other places crowded with civilians. Ten car bombs killed 46 people and injured 150 in Baghdad, and another two bombs in the Shia port city of Basra in the south killed a further 13 and injured 40. In the town of Balad, north of Baghdad, a car bomb exploded next to a bus carrying Iranian pilgrims, killing six Iranians and one Iraqi, police said.
In the overwhelmingly Sunni province of Anbar in west Iraq, 12 policemen, kidnapped from a bus travelling on the main road between Baghdad and Jordan on Sunday, died during a botched rescue mission. The policemen were reportedly all shot in the head, suggesting that they had been executed by their captors during an attempt to free them.
The Sunni Arabs in Anbar, which sprawls across the west of the country, are increasingly in a state of armed rebellion. The security situation has deteriorated sharply since an attack by government forces on a peaceful protest by Sunni at Hawaijah in Kirkuk province on April 23 in which at least 44 people died. Eight policemen, including two officers, were killed in an attack on a police station in Haditha yesterday and four police were killed and three wounded in an attack by tribesmen in Rawa.
On Sunday, in the provincial capital of Ramadi, security forces tried and failed to arrest Mohammed Khamis Abu Risha, nephew of a powerful tribal leader, alleging that he is connected with the killing of five soldiers. Armed tribesmen fought back to prevent the arrest during which two people were killed.
The overall level of violence in Iraq has increased markedly in recent weeks as al-Qaeda in Iraq gains in strength. The Sunni, one fifth of Iraq's 33 million population, are emboldened by the Sunni uprising in Syria. Their protests against discrimination and persecution were largely peaceful for the five months up to the Hawaijah massacre, but they are turning to armed resistance against government security forces.
"The moderate Sunni are losing ground," says Iraqi political scientist Ghassan al-Atiyyah. Iraqi Prime Minister Nouri al-Maliki has been criticised for failing to conciliate the Sunni protesters before the current wave of violence. The dominant Shia majority in Iraq are frightened that they will be the victims of a Sunni counter-revolution. The Shia-run security forces are likely to retaliate in kind over the killing of so many policemen in Anbar.
The bombings and shootings have killed over 200 people since last Thursday, with Sunni and Shia bombers alternating in attacking each other's neighbourhoods. These tit-for-tat bombings are different from those over the past five years when bombings were almost all carried out by al-Qaeda against Shia.
Bomb attacks on Sunni suggest that Shia militias, responsible for mass slaughter of Sunni civilians in the past, are again active. During the civil war Sunni were driven from many mixed areas in Baghdad into a few enclaves.
Latest attacks
Yesterday: A wave of attacks, some at markets and rush hour crowds, killed at least 90 people in Shia and Sunni areas.
May 19: Shootings and bombings kill at least 16 people including an anti-terrorism police captain and his family.
May 18: Bombs rip through Sunni areas in Baghdad and surrounding areas, killing at least 76 people.
May 17: Car bombs hit Shia neighbourhoods in Baghdad and attacks elsewhere in the country leave 21 people dead.
May 16: A car bomb goes off near a bus station in Baghdad's main Shia district, the deadliest of explosions that killed at least 33 people nationwide.
May 15: A convoy of gunmen open fire on a row of liquor stores in eastern Baghdad, killing 11 people and wounding five others.
-Independent