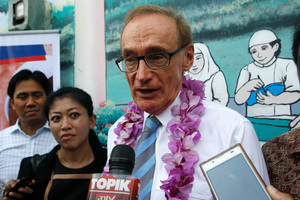 Australia's aid and defence spending in the Pacific has escaped the sweeping cuts to Government programmes announced in the latest Budget.
Reflecting the nation's concerns for stability, crime and violence in the region, Australia will pump more than A$1.2 billion ($1.4 billion) into humanitarian, economic and military programmes.
The new defence white paper warned of major challenges from fast-growing populations, high unemployment and poor governance, creating conditions for escalating crime and violence.
The budget aid statement said hunger was common across the region, especially in the smaller island states and rural regions of Papua New Guinea and Fiji.
Problems in the region's two biggest countries, PNG and Solomon Islands, were also significant blockages to the achievement of the millennium development goals set by the United Nations in 2000.
The goals covered poverty, hunger, education, gender equity, child maternity and maternal health, disease and environmental sustainability.
The statement said the Pacific was "not on track" to reach them.
Overall, Australia's defence spending will rise by more than A$5.4 billion in the next three years.
In the Pacific, operational costs will fall with the withdrawal of troops from East Timor and the Solomons, but spending on defence co-operation will be maintained.
This includes defence advisers, training exercises, equipment and infrastructure projects, at a cost of A$93.8 million.
The Pacific patrol boat programme, which supplied 22 craft to 12 countries, will continue but at rising cost as the ageing boats become more expensive to run.
PNG will be the largest recipient, with defence co-operation to rise from A$19.4 million to A$27 million.
Spending in Tonga will rise by A$2 million to A$3.8 million to enable the purchase of a medium landing craft to transfer stores, people, and equipment to outer islands, and to provide rapid relief in natural disasters.
The aid budget for the region has also remained unscathed, despite widespread criticism of the Government's decision to delay for the second successive year its promise to increase overseas aid to 0.5 per cent of national income.
Oxfam said the decision would cut about A$1.9 billion from the fight against poverty, with most of the world's poorest people living in the Asia-Pacific region.
But Foreign Minister Bob Carr said aid spending would increase to a record A$5.7 billion in 2013-14.
Australia will spend A$1.12 billion in aid in the Pacific, with a further A$125.7 million in East Timor. More than A$500 million will be spent in PNG, the Solomons will receive about A$187 million in bilateral aid and a further A$498.9 million over four years through regional assistance mission, and Fiji's aid will rise by almost A$10m to A$58.2m to boost health, education and the economy.
Where the dollars go
A$5.4 billion defence spending over the next three years
A$1.2 billion humanitarian, economic and military programmes in the Pacific
A$27 million in defence spending focused on Papua New Guinea.