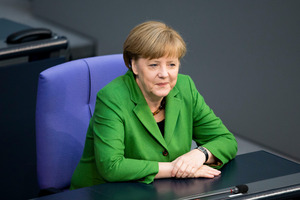 Angela Merkel has denied claims made in a new book that she played a senior role in the East German communist youth movement.
The allegations in the book relate to a period when the German Chancellor studied for her doctorate and worked as a researcher at the Academy of Sciences in east Berlin.
The book, The First Life of Angela M, written by two German journalists, claims that in 1981 - when she was in her late twenties - she became "agitprop" secretary of the academy. This would have made her responsible for promoting communist ideology.
Merkel said she had never hidden anything about her life in East Germany, although she acknowledged that some things may emerge "because no one has ever asked me about them".
"What is important to me is that I have never hidden anything," she said after attending the screening of an old East German film in Berlin.
"I can only rely on my memory. If other things emerge, one can live with that too."
In the past, Merkel has said that she was a "cultural official" with the communist youth movement. Like many other young people who grew up in East Germany, Merkel was a member of the communist youth organisation, the Free German Youth. She has said that she "politically lived an assimilated life".
Merkel grew up in East Germany, the daughter of a pastor, and entered politics as communism crumbled in 1989, becoming involved in the democracy movement Democratic Awakening.