Parents of US engineer say he was murdered to cover up criminal activity.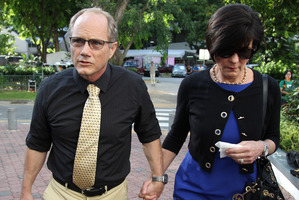 A coroner's inquiry that opened in Singapore yesterday may offer a final chance of resolving whether an American electronics engineer committed suicide - or was killed to stop him talking to US authorities about his work at a Singapore institute on a sensitive research project involving a high-profile Chinese telecommunications firm.
The body of Shane Todd was found on June 24 last year by his girlfriend at his apartment in Singapore, hanging from a strap attached to a door. A police autopsy said his death was caused by asphyxiation, but his parents believe he was murdered.
They said suicide notes purportedly left by their son were faked, and the initial police account of the scene bore little relation to what they found when they arrived at the apartment 48 hours after his death.
Todd, who was 31 when he died, had joined the Singapore Government-backed Institute for Micro Electronics (IME) 18 months earlier and for the final year of his life worked on an IME project to develop an amplifying device, using gallium nitride (GaN), a heat-resistant material with the potential to make superconductors with many possible uses in the civilian and military fields.
Todd had been trained in the US on proprietary equipment that produces GaN but is restricted for export because of its potential military applications.
During an early stage, IME was talking about the project with the Chinese telecom company Huawei, deemed a security risk by the US, Australia and India.
According to his parents and his girlfriend, Shirley Sarmiento, a Filipino nurse working in Singapore, Todd was showing signs of stress and unhappiness with his job as the project progressed.
Sarmiento told the court that Todd had frequently told her how he felt uncomfortable at IME and complained about the "dishonest environment" in his workplace.
He had also mentioned how he feared "heavy hands coming after him", she said.
But in letters to his parents, Todd had emphasised his problem in Singapore was work-related anxiety.
In particular, his parents, Rick and Mary Todd, told the Financial Times earlier this year that their son suspected he might be involved in a project that might be illegal, or something that could compromise US national security. For this reason, they believe, he may have been murdered.
Other inconsistencies are apparent, apart from suicide notes that do not appear to be in Todd's handwriting.
According to the parents, the original police report described an elaborate mechanism for the hanging, including bolts drilled into the marble wall of the bathroom, that secured a pulley. But the Todds said they saw no trace of drilled holes when they arrived at the apartment from their home in Montana.
What they did discover, they told the FT, was an external hard drive. When they had it analysed by an IT expert in the US, it was found to contain copies of their son's computer files from IME, including a planned project apparently involving Huawei.
The state counsel, Tai Wei Shyong, told the court police found no signs of foul play when they arrived on the scene.
But the Todds have vowed to seek an investigation by the US Congress. "We believe China and Singapore are illegally transferring technology," Mary Todd said last week.
- Independent