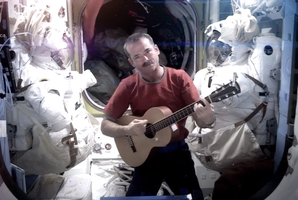 Canadian astronaut Chris Hadfield, NASA's Thomas Marshburn and Russian cosmonaut Roman Romanenko are returning to Earth after five months aboard the International Space Station.
The trio have boarded a Soyuz TMA-07M spacecraft and undocked from the space station at 7.08pm EDT (11.08am NZT) as scheduled.
They are scheduled to land in Kazakhstan at 10.30pm EDT (2.30pm NZT).
The undocking marks the end of Exhibition 35 and the start of Expedition 36 under the command of Russian cosmonaut Pavel Vinogradov, who will remain at the station with Chris Cassidy and Alexander Misurkin.
NASA TV is screening live coverage of the return of the crew from 10.45am NZT - watch the live stream below.
- nzherald.co.nz