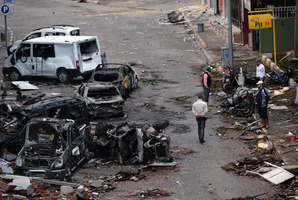 The mob shouted "Kill the Syrians" as they marched on the Hawam family drinks stall in Reyhanli.
Refugees from Aleppo, the Hawam family served mainly fellow Syrians, and were natural targets after the weekend's double bombing of the Turkish border town.
"There were 60, maybe 100 of them," said Ridar Hawam, 18, the older boy. "They were shouting, 'You are Syrian, you are bombing us'. They said they should shoot all Syrians, even the children."
Three Syrians were among the 46 killed when the two car bombs struck the town centre on Sunday. But that did not lessen the anger vented against the refugees and the man many locals blame for bringing them to Reyhanli, the Turkish Prime Minister, Recep Tayyip Erdogan.
Reyhanli is close to the Bab al-Hawa crossing, a funnel through which arms and men are flowing into Syria to bolster rebel forces. Upwards of 300,000 Syrians have flooded into Turkey, by no means confined to refugee camps on the border.
Erdogan and his ministers blamed Bashar al-Assad's secret police, the mukhabarat, for the explosions, which would make this the worst "blowback" the country has suffered for its backing of the Syrian opposition.
It was an orthodox terror attack. The first, smaller bomb detonated outside the town hall. As people came out to see what had happened, a second, much larger car bomb exploded at the busier end of the main street, crowded with shoppers. It sent jets of flame into the air and shattered glass frontages for half a mile around.
Erdogan's policy of "zero problems with the neighbours", pursued actively during the first years of his premiership, has had spectacular consequences.
Many of the leading Syrian rebels are small businessmen who took advantage of easier trade links to travel to Turkey, seeing its prosperity and democracy at first hand and making the money with which they funded their initial arms purchases.
After Assad snubbed Erdogan's earlier pleas to step down, Turkey began backing the rebels, and is now calling for Western intervention.
The authorities said they had arrested nine Turkish citizens from a Marxist group with links to the Syrian mukhabarat. The Foreign Minister Ahmet Davutoglu said the faction behind the bombing was responsible for massacres of Sunnis in two villages near the northern town of Baniyas 10 days ago.
Aytug Atici, an opposition MP for the nearby town of Mersin, said he was worried for the safety of Turkey's ethnic Arab population, many of whom belong to the Alawite sect of Assad's family. Davutoglu blamed the international community for its failure to intervene to end the war. "It's unacceptable for the Syrian and Turkish people to pay the price for this."