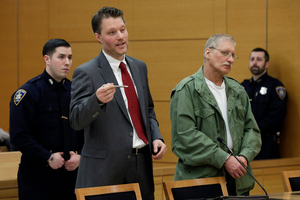 David Ranta spent 23 years in prison for a murder he did not commit.
In 1991 Ranta, who is now 58, was convicted of shooting dead a rabbi, Chaskel Werzberger, during a botched jewellery robbery in Brooklyn, New York. He was freed in March this year, following an investigation by the Brooklyn District Attorney's Conviction Integrity Unit, which spoke again to a witness who had claimed to have seen Ranta near the murder scene.
Menachem Lieberman, who was 13 at the time of the murder, recanted his testimony, saying he had been coached to pick Ranta from a police line-up by a homicide detective named Louis Scarcella.
With questions now being asked about the legitimacy of several more of Scarcella's investigations, the Brooklyn District Attorney announced last week that its Conviction Integrity Unit would re-examine every one of the celebrated NYPD detective's murder cases that resulted in a conviction.
Scarcella, 61, denies ever having used unethical tactics to secure a conviction, but Ranta's trial lawyer has described him as a "cowboy" who "did a lot of bad things".
Scarcella joined the Brooklyn North homicide squad in 1987, in the midst of New York's crack epidemic, at a time when the city saw up to six murders a day.
As the lead officer on an estimated 175 homicide investigations, he earned a reputation for solving splashy cases such as the stabbing death of a dance choreographer and the murder of a subway worker, who died after two teenagers torched a ticket booth.
Scarcella retired from the force in 1999, and told the New York Times he was shocked by the DA's inquiry.
"Let them look at my convictions. I will help them if they need me. I don't know what else to say. I expect he will find nothing."
The probe was spurred partly by a Times investigation of several Scarcella cases, which found that police had allowed convicted criminals to leave jail, smoke crack and visit prostitutes if they agreed to incriminate Ranta.
- Independent