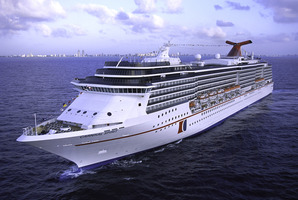 A couple who went overboard from a cruise ship off the NSW coast and presumably died had been fighting before the incident.
More information has emerged about what happened between paramedic Paul Rossington, 30, and his girlfriend Kristen Schroder, 27, on board the Carnival Spirit cruise ship.
CCTV captured the couple in the ship's casino on Wednesday evening having a short but heated argument, a senior police source told AAP.
That incident led them to skip dinner with Ms Schroder's family, who were accompanying them on holiday.
After they left the casino, CCTV recorded them "mucking around" in a corridor on their way to a lift, giving the impression they were no longer quarrelling.
The couple were known to argue frequently, but only for about five minutes an episode.
"It's a common occurrence between them," another source who asked not to be identified told AAP.
Around 8.50pm (local time) that night, CCTV captured the pair going overboard into the Tasman Sea, one immediately after the other, from mid-deck of the ship, off the NSW mid-north coast.
The footage shows Ms Schroder climbing over the railing and standing on the other side of it as she faced towards the sea.
Police did not reveal how long she was standing there and were unable to determine if she intended to jump or simply fell.
Mr Rossington was not captured in the CCTV footage when Ms Schroder went over but can be seen moments later jumping overboard.
"It was in his nature to save people," the source said.
Another CCTV camera captured Ms Schroder striking a lifeboat before she went into the water.
Mr Rossington was a NSW paramedic in Barraba, north of Tamworth, where he lived with Ms Schroder.
It is understood the couple met in Sydney where Ms Schroder had worked as a senior property manager.
The couple moved to Barraba about 12 months ago for Mr Rossington's job.
His family is preparing to travel to Barraba with a moving van to pack up the couple's belongings from their home, AAP understands.
In a brief statement, Ms Schroder's family thanked emergency services for their efforts to find the couple.
Mr Rossington's family also expressed their thanks.
"We wish to pass on our extreme gratitude to every person who has worked so hard to help find Paul and Kristen, as well as to the many people who have offered so much of their support," the statement read.
NSW Ambulance said it had activated its support network for Mr Rossington's work colleagues.
Stephen Leahy, head of Westpac Life Saver Rescue Helicopters, said that if the couple fell accidentally, they could have survived until Friday, noting that the ocean was calm and fairly warm, and describing Rossington, a paramedic for the state ambulance service, as very fit.
"He has a very good understanding ... of survival techniques and his level of fitness will help him," Leahy told Australian Broadcasting Corp. "He'll also be able to help his partner. The chances of two young people surviving are very, very good, and certainly from our perspective, we haven't given up hope."
The air and sea search covered 4,670 square kilometres of ocean before being called off in failing light Friday without finding any sign of the couple, police said in a statement.
The nighttime search had involved heat-seeking infrared equipment, and Hutchings said no life preservers were missing which might have indicated that one of the missing passengers had attempted a rescue.
The railing over which the couple fell was 5 centimetres higher than industry safety regulations mandate, said Ann Sherry, chief executive of Carnival Australia and Carnival Corp.'s representative in the South Pacific region.
"It's designed really to prevent accidental tripping" overboard, she told reporters.
"We want to make sure that it's not possible for people to fall overboard or to trip and fall overboard ... so I think it would be highly unlikely, but again, in this case, the police are conducting a full investigation," she said.
The ship has around 600 surveillance cameras that are constantly monitored, although no one reported seeing the fall at the time. Sherry defended the level of monitoring of passengers aboard the ship that allowed the couple's fall to go unnoticed. At least four crew were monitoring the ship's surveillance cameras at any time, she said.
The night Rossington and Schroder vanished, the video surveillance staff were busy watching the public areas of the ship, she said.
"It was the last night of a cruise," Sherry said. "Virtually everybody else was in the public spaces on the ship, and they're the areas that we focus on in those times."
The couple were among 2,680 passengers on a South Pacific cruise. The ship's last stop was Mare Island in New Caledonia, which it left on Monday, bound for Sydney.
-AAP, AP