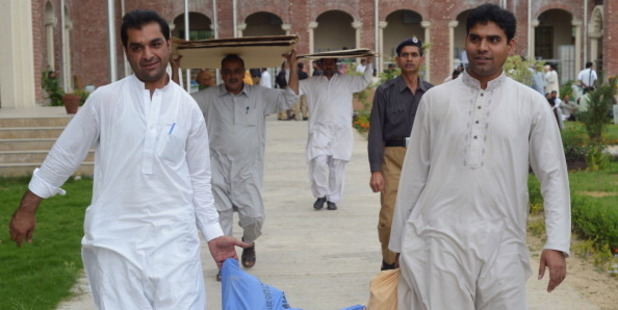 Millions of Pakistanis are expected to brave Taliban threats to vote in elections that mark a historic democratic transition.
The nuclear-armed state has been ruled for half its life by the army.
But the Taliban have branded democracy un-Islamic and have waged a virulent campaign of attacks against the main secular parties, killing more than 120 people in what has been called the country's deadliest election.
Polls open on Saturday at 8am and close at 5pm, allowing an electorate of more than 86 million to vote for the 342-member national assembly and four provincial assemblies in Khyber Pakhtunkhwa, Punjab, Sindh and Baluchistan.
The vote marks the first time that an elected civilian administration has completed a full term and handed power to another through the ballot box in a country where there have been three military coups and four military rulers.
The front-runner is ex-prime minister Nawaz Sharif, head of the centre-right Pakistan Muslim League-N (PML-N).
But much of the campaign has been electrified by cricket star Imran Khan with promises of reform and an end to corruption.
The charismatic 60-year-old leader of Pakistan Tehreek-e-Insaf (PTI) tapped into a last-minute surge of support after fracturing his spine when he fell from a stage at a campaign rally on Tuesday.
Although he is expected to make a full recovery, he is flat on his back in hospital and aides say he cannot even vote on Saturday.
The outgoing centre-left Pakistan People's Party (PPP) has run a lacklustre and rudderless campaign, with its chairman, Bilawal Bhutto Zardari, too young to run and largely hidden from public view due to Taliban threats.
- AAP