Waterhouse likely to be brought to heel by powerful lobby working to reduce sports betting and gambling promotion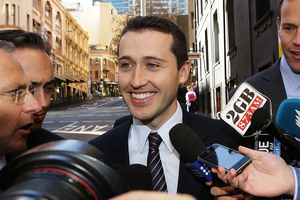 Internet bookmaker Tom Waterhouse may walk away clean as a whistle from the tawdry inquiry into allegations that he passed on confidential information from his trainer mother Gai to punters, warning them off advertising king John Singleton's mare More Joyous.
But he is likely to be the biggest loser from the affair. By drawing even more unwelcome attention to his booming business, Waterhouse has become the prime target of a large and influential lobby working to bring sports betting to heel.
Nor has racing emerged well from the stewards inquiry expected to resume in Sydney next week. All the old doubts about probity in the sport - founded or unfounded - have resurfaced as the cast of key players emerges.
Tom Waterhouse is a fourth generation bookie. His mother is one of the nation's most prominent and successful trainers, born into the sport's elite. His father and grandfather, both hugely successful bookies, were suspended for years in the washup of the 1984 Fine Cotton substitution scandal.
Their protagonist, Singleton, is an icon of advertising with large media holdings. His case rests largely on the evidence of former league great Andrew Johns, former jockey Allan Robinson and prominent Sydney brothel-owner Eddie Hayson.
Johns and Robinson have agreed to front the inquiry. Hayson has not.
Hayson owns the Stiletto sex club in Camperdown, which turns over about 1000 clients a week.
He has had brushes with gaming officials before, once over a large bet on a dog race on the Gold Coast, and again over a Newcastle-Warriors game in Newcastle, during which he denied getting an insider tip that good friend Johns was out of the game with an injury.
He narrowly escaped bankruptcy recently after settling debts of A$20 million, including about A$3 million owed to Tom Waterhouse, who had secured caveats over Stiletto and another property.
Singleton accused Gai Waterhouse of telling Tom that More Joyous was unwell, and that Waterhouse junior had passed on that information to other punters. Singleton said he was not made aware of any problems.
More Joyous, favoured in the All Aged Stakes at Randwick, finished seventh.
The inquiry has established so far that More Joyous had been treated for a neck problem on the Thursday before the race, but was cleared to run on the Saturday.
Singleton's racing manager and vet knew of the problem, but did not tell the owner until Saturday morning, when Singleton decided against backing his horse with a A$100,000 bet. Gai Waterhouse also knew, but did not tell the stewards.
Johns did speak with Tom Waterhouse on the Thursday before the race, but denied discussing the condition of More Joyous. Waterhouse told him he "didn't like" several horses, including More Joyous.
Waterhouse said he had not discussed More Joyous and had backed the horse. Betting records showed he had lost A$256,000 on the race.
Johns later told Singleton he had embellished the conversation and exaggerated what Waterhouse said in conversations with Robinson and Hayson. Robinson later phoned Singleton to tell him Waterhouse had told Johns that More Joyous had problems.
Singleton now says he will apologise to the Waterhouses if the inquiry finds no wrongdoing, but there is little chance he will be able to revive his decades-long friendship with the family.
Gai Waterhouse called him a "drunk" and an "absolute sham" who had believed Chinese whispers.
But son Tom may have walked out of these woods into a darker and more dangerous forest. His incessant presence on sporting broadcasts, his appearance as both advertiser and league commentator on Channel Nine, and his promotion of live odds has pushed many anti-gaming advocates too far.
Opposition Leader Tony Abbott is already flagging new laws to rein in gambling promotion on TV sports broadcasts if he wins the September 14 election.
Tom Waterhouse has declined invitations to appear. Now the select committee on gambling reform will use its powers to force him to give evidence before the inquiry.