As former school bus driver prepares to answer charges of kidnapping and sexual abuse, questions remain over how he kept trio under such tight control for so long.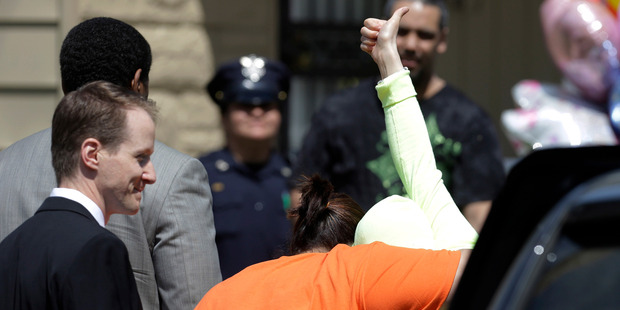 Three women found alive after a decade in captivity endured lonely, dark lives inside a dingy home where they were raped and allowed outside only a handful of times in disguises while walking to a garage steps away, investigators say.
The former school bus driver accused of kidnapping and raping Amanda Berry, Michelle Knight and Gina DeJesus was to make his first public appearance in court today after emerging as the lone suspect.
While many questions remain about how Ariel Castro, 52, maintained such tight control over the women for so many years before one of them made a daring escape on Tuesday, the horrors they suffered are beginning to come to light.
Police say the women were apparently bound by ropes and chains at times and were kept in different rooms. They suffered sexual and psychological abuse and had miscarriages.
Castro has been charged with four counts of kidnapping - covering the captives and the daughter born to one of them - and three counts of rape, against all three women.
The women and Castro have given lengthy statements to police that have helped build their case, said Deputy Police Chief Ed Tomba.
None of the women, though, gave them any indication that Castro's two older brothers, who've been in custody since Tuesday, were involved, Tomba said.
Prosecutors brought no charges against the brothers, citing a lack of evidence. "Ariel kept everyone at a distance," Tomba said.
"He ran the show. He was the big bully. He acted alone, and these guys had nothing to do with it."
Tomba blamed the "chaos" during Ariel Castro's arrest on Tuesday for the fact that his brothers, Pedro and Onil, were also arrested.
"We found no facts to link them to the crime," he conceded.
One thing that remains a mystery, he said, is how the women were kept in the house so long. "As far as the circumstances inside the home and the control he may have had over those girls ... I think that's going to take us a long time to figure that out," he said.
The women, now in their 20s and 30s, vanished separately between 2002 and 2004. At the time, they were 14, 16 and 20 years old.
At a news conference, authorities would not discuss the circumstances of their kidnapping and captivity.
City Councilman Brian Cummins earlier said: "We know that the victims have confirmed miscarriages, but with who, how many and what conditions we don't know. "
They never saw a chance to escape over the past 10 years until this week when Berry broke through a door and ran to freedom, alerting police who rescued the other two women while Castro was away from the house.
"Something must have clicked and she saw an opportunity and she took that opportunity," said Tomba.
He said the women could remember being outside only twice during their entire time in captivity. "We were told they left the house and went into the garage in disguise," he said.
Also in the house was Berry's six-year-old daughter. A paternity test on Castro was being done to establish whether he fathered the child.
In a remarkable development, investigators found a "suicide note" written by Castro, law enforcement sources told 19 Action News.
In the note, apparently written several years ago outlining what he did and why, Castro apparently writes about needing help for sex addiction and blames his victims for getting into a car with him. The note also refers to family problems and a poor childhood.
Khalid Samad, a former assistant safety director for the city who saw the three women at hospital, said: "They were kept in a dungeon with chains. It was a sexual torture chamber run by this guy acting out his sick fantasies."
Samad, who became close to the families of the missing girls during the searches for them, said that law enforcement officials told him that at times the women became pregnant but that they lost their unborn babies after beatings.
"They are extremely traumatised and they are slowly talking to investigators about what they went through, but nobody is rushing them at this stage. They are trying to reconnect the dots in their lives."
He said the three women seemed thin and tired but in good spirits when they arrived at the hospital.
Police pointedly denied claims from neighbours that emergency calls had been made after residents saw naked women on all fours being led around on dog leashes in the garden.
Officers said no human remains had been discovered in the house, where "Rest In Peace" was reported to have been found written on a basement wall. While prosecutors announced charges against Castro, federal agents searched a vacant house near where the women had been held.
Officials would only say their search was an attempt to get evidence in the case against Castro, but they refused to say what they found or what led them there.
Knight told them there was another girl at the home when she was abducted and taken there in 2002. She said the other victim disappeared.
Knight is continuing to receive medical care. The first of the three to be kidnapped in 2002, she has reportedly suffered hearing damage and facial injuries after years of beatings.
As DeJesus went home yesterday, it emerged that Castro had joined the searches for the girl he had abducted on her way home from school.
Gina, then 14, was the best friend of Castro's daughter Arlene.
An accomplished guitarist, Castro performed at a benefit concert held in her honour and was even said to have been seen comforting DeJesus' mother at a vigil last year.
Berry and DeJesus were welcomed home by jubilant crowds of loved ones and neighbours with balloons and banners. Family members hustled them inside, past hundreds of reporters and onlookers. Neither woman spoke.
"This is the best Mother's Day I could ever have," said Nancy Ruiz, Gina's mother. She said she hugged her daughter and didn't want to let go.
Ruiz said she spent time with all three women after they were rescued. "There's no word to describe the beauty of just seeing them," she said.
DeJesus' father pumped his fist after arriving home with his daughter, and urged people across the country to watch over the children in their neighbourhoods - including other people's kids.
"Too many kids these days come up missing, and we always ask this question: How come I didn't see what happened to that kid? Why? Because we chose not to," he said.
- additional reporting, AP