Inhabitants struggle with the horror story that went on in their midst for so long.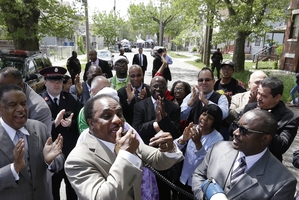 Last year, Jamie Camacho, a Cleveland taxi driver who has been singing with local Latin bands for decades, made a stop at a vigil to mark the disappearance of Gina DeJesus.
He was just "cruising by" when Camacho saw a motorcycle belonging to Ariel Castro, whose house at 2207 Seymour Ave is just a couple of blocks up from Camacho's.
Camacho knew Ariel as a neighbour and a bass guitarist who frequented many of the same gigs and clubs. He eventually found the 52-year-old in the crowd and they got talking. Camacho expressed his hope that Gina, who went missing in 2004 while walking home from middle school, and Amanda Berry, another local girl who went missing in 2003, would be found alive.
"I said I wish the creep who took them is caught and put in one of those open prisons - not locked up by himself - so the other prisoners can beat him up," Camacho said this week after Ariel was arrested in connection with the abduction of DeJesus, Berry, and Michelle Knight, who went missing in 2002.
"He said, 'Yes, I agree."'
Now, as forensic teams pore over the Seymour Ave house, Camacho and the wider Cleveland community are struggling to comprehend the horrors that lurked behind its doors, and to make the allegations fit with their memories of Castro and his brothers.
Ariel was best known: a school bus driver who was fired from his job last year. According to county documents, he bought the house with a 70.5sq m basement in 1992.
The surrounding area has a large Hispanic population which has grown significantly in recent decades.
The Seymour Ave property currently faces foreclosure because Ariel owes thousands of dollars in unpaid taxes on it.
Pictures of the interior show a padlock on the door to the basement. Ariel's son, Anthony, 31, has said the basement was off limits to him on the occasions he visited the property since graduating from high school. The same went for the garage and the attic. "There were places we could never go," he said from Columbus, where he lives.
Tito DeJesus, a Cleveland area pianist who knew Ariel but who is not related to Gina DeJesus, last visited the property in 2011. He was moving from a house to an apartment and had sold his washer-dryer and other household items to Castro. "I was helping him move [them]," DeJesus said. "I was only there for a few minutes. He invited me in for a beer. But I had to hurry, I had a gig. There was regular furniture. I didn't go very far inside. He had his instruments out and about and used [them] as decorations."
Israel Lugo, who lives two houses down, has spoken of how he, his family and other neighbours called the police three times between 2011 and 2012 after noticing odd goings-on at the Castro house including seeing three women or girls with leashes around their necks crawling around the back yard. The neighbours who saw this told Lugo that the women were being controlled by three men. They rang the police but the authorities never responded, he told USA Today. Other neighbours have spoken of regularly seeing Castro bring large bags of McDonald's to his house, while some have recalled seeing a little girl in the attic window.
As far as Tito DeJesus, Camacho and others were aware, Ariel had lived by himself after his marriage broke down more than a decade ago. Camacho last saw Castro's ex-wife Grimilda Figueroa around seven years ago. "She said he was too possessive with her. She said [sometimes] he would lock her in the house when he went out," he said.
Ariel's brother Pedro is reported to have lived with their mother. Locals said they had seen him around Seymour Ave but didn't know him. Nelson Roman, a close friend of the brothers, told the Cleveland Plain Dealer that Pedro was a bright student at high school and once worked at a local factory. In recent years he had been living off state benefits.
Neither Pedro nor the youngest brother, Onil, were ever married, according to Roman. Ariel's son Anthony has said that Onil owned a house and lived alone after splitting many years ago with a live-in girlfriend with whom he had two sons.
Roman Onil worked as a handyman until he was hurt. In recent years, he is said to have been receiving workers' compensation cheques.
"I was flabbergasted. I had no idea," DeJesus said, recalling the moment he heard about the women held captive at Ariel's house.
- Independent