US military vows to fight sexual violence after report reveals 70 incidents a day.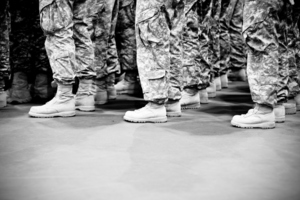 The United States Air Force has relieved 17 officers of their responsibilities for the control of intercontinental nuclear missiles.
A military spokesman revealed the sackings, citing poor performance reviews.
Although individual officers have sometimes lost their certification to control and launch missiles, the removal of so many at once was unprecedented, Lieutenant Colonel John Dorrian said.
He said the officers received a "satisfactory" rating on 21 of 22 points under review, but failed the last unidentified category, which led to their decertification.
"In nuclear enterprise, leadership expects perfection," said Dorrian.
The officers, who were responsible for control over and launch of Minuteman III missiles at Minot air force base in North Dakota, could be recertified after 60 days of training.
In 2008, after a series of high profile blunders involving nuclear weapons, a Pentagon investigation concluded that the air force's management of the nuclear mission had undergone "dramatic and unacceptable decline".
Then-Defence Secretary Robert Gates sacked the air force's top military officer and civilian boss after a B-52 bomber flew across the United States, accidentally loaded with six nuclear missiles.
Meanwhile, the US military has promised to step up its efforts against sexual violence in its ranks after a Pentagon report revealed more than 70 assaults on service members happened daily.
About 26,000 members of the armed services are estimated to have been sexually assaulted in the past year, a sharp rise from 19,000 incidents two years ago.
The report by the US Defence Department comes days after a senior officer responsible for preventing sexual assault in the air force was arrested and charged with drunkenly attacking a woman.
President Barack Obama called the findings an "an outrage" and promised to hold people accountable to curb the widespread violence before women become more integrated into front-line combat roles.
The Pentagon report found that 12,000 - or 6 per cent - of the US military's 203,000 women on active duty were victims of unwanted sexual contact last year. Of those, about 4000 said they had been forced to have sex against their will.
Just over 1 per cent of military men reported they had been assaulted, according to the survey, which was filled out anonymously to encourage honesty.
A separate report found that only 2949 troops had reported sexual assaults last year, a fraction of the number who anonymously claimed to have been assaulted. That was a 6 per cent rise in the rate of reporting since 2011.
The issue was thrown into sharp relief this week by the arrest of Lieutenant Colonel Jeffrey Krusinski, the newly appointed head of the air force's sexual assault and response programme.
Krusinski, 41, was taken into custody after he allegedly assaulted a woman in a Virginia car park, police said.
Asked about the apparently sharp rise in sexual assaults during his presidency, Obama promised fresh action and said "whoever carries it out is betraying the uniform that they're wearing".
By 2016, hundreds of thousands of front-line posts, possibly including positions in elite special forces units, will be open to women.
Military survey
26,000 members of the armed services sexually assaulted last year
6 per cent of 203,000 women on active duty victims of unwanted sexual contact
4000 reported they had been forced to have sex against their will
- Additional reporting - AFP