Voters have to decide whether they want new Pakistan, says former cricket star.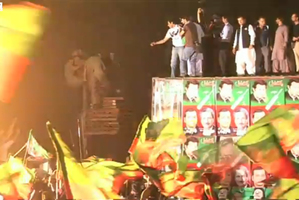 Imran Khan, the former cricketer and one of Pakistan's most popular politicians, suffered a head injury after falling 5m from a platform lift as it carried him on to a stage for an election rally.
Television footage showed Khan, 60, toppling from the precarious lift with three security guards.
Looking dazed and bloodied, he was carried by aides to a waiting car and driven to hospital in Lahore.
The crowd, which had been pumped by loud music and speeches, fell silent as they watched Pakistan's former cricket captain carried away.
Party officials said Khan was being kept in for observation.
Hospital spokesman Khawaja Nazir says Khan has one main head injury, two "fractures" to his back and a small injury to his shoulder, but his condition is not serious.
Just hours after the fall, Khan spoke to reporters from his hospital bed. He was visibly shaken and had a cut on his forehead, but he was still asking people to vote for his party.
"I have done whatever I could do," he told national broadcaster Dunya TV. "Now you have to decide whether you want to make a new Pakistan."
Asad Omar, leader of Khan's Pakistan Tehreek-e-Insaf Party, told Pakistan's Geo News that party leaders would discuss how to continue his campaign during the next three days.
He said Khan will spend the night at the hospital, and that doctors are asking him to rest for 15 days but he wants to resume his political activities as soon as possible.
Campaigning for Pakistan's general election has reached its critical final stage. Khan has travelled across the country holding a series of electrifying rallies ahead of voting on Saturday, and is considered the only runner capable of denying Nawaz Sharif a third term as Prime Minister.
While other leaders have limited their appearances, Khan has adopted a gruelling schedule - sometimes appearing at nine rallies in a day - as he attempts to force the ruling elite from power.
He has looked increasingly tired as the campaign wore on and last week he told the Daily Telegraph he was grateful for the years of cricket training that had kept him in shape.
The Pakistan Taleban has warned voters in Karachi, the country's biggest city, not to take part in the election or face death.
The threats, posted on lampposts and handed out on fliers at mosques, declare the poll to be un-Islamic and single out three of the more secular and liberal parties for condemnation.
The pamphlets follow a spate of bombings which have killed more than 90 people during the campaign and forced some politicians to cancel rallies as Pakistan prepares to mark the first time that one Government has survived a five-year term before handing on to another. Analysts believe the warnings signal a first entry into politics for the Taleban.
Three leaflets seen by the Daily Telegraph say that the polls are un-Islamic for allowing equal weight to the votes of religious scholars, ordinary men and women, not to mention members of minority sects or faiths.
"If you stay away you will protect yourself. If not you are responsible for your fate," said one, threatening to bomb polling stations. Karachi has seen some of the worst of the election violence. Police say there have been 12 bomb attacks and countless shootings. One ANP candidate, Sadiq Zaman Khattak, was shot dead and his 4-year-old son killed.


Campaign of violence
3 bombings yesterday in northwest Pakistan targeting individuals involved in the elections
18 people were killed, police said
25 killed and 70 wounded in an attack on a party rally on Monday
100 people at least have died in attacks on candidates and party workers since the beginning of April
- Telegraph Group Ltd, AP, AFP