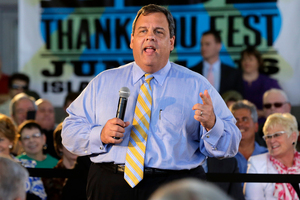 When Chris Christie briefly considered a bid for the White House in 2011, many suggested the popular New Jersey Governor was too fat to be President.
However, if he decides to run in 2016 his weight may be less of a burden. Christie told the New York Post he underwent gastric-band surgery earlier this year, and observers say it is paying off.
The Republican said he decided to have the operation after turning 50 last year. He checked into the hospital under a pseudonym on February 16, telling only his family and his chief of staff.
The procedure involves placing a silicone band around the stomach to reduce its size and so limit the amount of food it can hold. Christie said: "A week or two ago, I went to a steakhouse and ordered a steak and ate about a third of it and I was full."
"I've struggled with this issue for 20 years," he told the Post. "I know it sounds crazy to say running for President is minor, but in the grand scheme of things, it was looking at Mary Pat and the kids and going, 'I have to do this for them, even if I don't give a crap about myself'."
Christie does intend to run for a second term as New Jersey governor.


Fighting the fat
Chris Christie is also widely touted as a favourite for the Republican presidential nomination in 2016. Washington insiders suggest the weight-loss surgery will help. Mike Huckabee, the former Republican Governor of Arkansas, shed more than 50kg in advance of his running for the presidency back in 2008. Huckabee completed several marathons and he even wrote a self-help book, chronicling his weight-loss, called Quit Digging Your Grave with a Knife and Fork.
- Independent