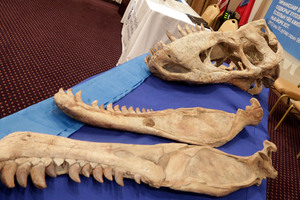 Some 70 million years after he roamed the Gobi Desert, Lenny the tyrannosaurus began his journey home yesterday after dinosaur bone looters smuggled him to America.
At a repatriation ceremony in a Manhattan hotel room, senior US legal officials handed back the near-complete skeleton of the 7.3m long, 2.4m tall carnivorous raptor to delighted Mongolian officials.
In a dramatic raid, the tyrannosaurus bataar - a cousin of the T-Rex - had been seized by the authorities from a New York auction house as it was put up for sale for more than US$1 million ($1.17 million).
The skeleton is the first part of a trove of looted Mongolian dinosaur remains that will be returned after an agreement was reached with a British fossil dealer, US prosecutors said.
Chris Moore, who runs Forge Fossils in the Dorset town of Charmouth, recently handed over to the Manhattan district attorney's office a large collection of fossils, including another tyrannosaurus bataar.
Moore faces no legal charges in the US. The Mongolian Government said its criminal investigation into his activities would be ended when the fossils were on home soil.
The case has thrown a spotlight on the lucrative world of palaeontological trading, as dinosaur fossils fetch high prices at auction.
Eric Prokopi, a commercial palaeontologist from Florida, is awaiting sentencing after pleading guilty to fraud and conspiracy for his role in smuggling Lenny into the US and putting it up for sale.
Tsagaan Puntsag, the chief of staff of the Mongolian President, who led his country's delegation, expressed his delight in the return of the raptor, which has become a "hero dinosaur in Mongolia".