Rocket attacks on Hizbollah arsenal part of shadow war between Tel Aviv and Tehran.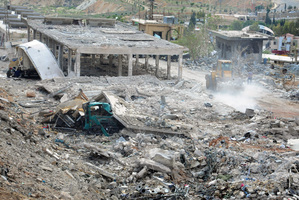 Two rocket attacks against targets in Syria by Israel have compounded the prevailing chaos in the region, threatening to significantly expand the territorial scope of the current conflict in Syria and deepen its political complexity.
"Everyone will be reassessing their position now, including Russia and America, Sunnis and Shia," said Professor Uzi Rabi, a political scientist from Tel Aviv University. "The whole region is moving into a new era through the back door of the Arab Spring."
The Israeli attacks in Syria, and a similar one three months ago, are in fact part of a shadow war between Israel and Iran. The latter has been using Syria as a channel for shipment of strategic weapons to Hizbollah, its proxy militia in Lebanon. Tehran sees Hizbollah as playing a major role in deterring Israel from attacking Iran's nuclear facilities.
With some 60,000 rockets already in Hizbollah's hands, that threat to Israel is tangible. The bulk of the rockets are short range and have limited strategic impact.
But Hizbollah's arsenal of long-range rockets capable of precise hits on Tel Aviv and elsewhere has been steadily growing. It was shipments of such rockets that Israel hit on Friday and Sunday, setting off thunderous blasts that shook Damascus awake.
Israel decided to carry out the attacks because it believes that neither Syria nor Hizbollah is in a position to respond. The Syrian armed forces have been seriously eroded by two years of war against insurgents and Hizbollah has reportedly committed half its combatants to fight alongside Syrian troops to prop up President Bashar al-Assad.
Although Syrian Deputy Foreign Minister Faisal Mekdad said yesterday that the strikes constituted "a declaration of war", the militant tone in Damascus softened later in the day when it became clear that the targets hit were Hizbollah warehouses near Damascus where the missiles were stored and not Syrian Army positions.
Israeli analyst Ehud Yaari said if Hizbollah retaliated, it would most likely do it by aiming at Israeli targets abroad. However, the Israeli Army yesterday moved Iron Dome anti-rocket batteries close to its border with Lebanon. Prime Minister Benjamin Netanyahu left yesterday for a week's visit to China. Although he delayed his departure by two hours to see how Syria and Hizbollah reacted, it was decided cancelling the trip would only make it seem Israel was planning a major campaign.
Israel has been careful to stay out of the civil war raging in Syria but if it continues to hit Hizbollah-bound weapons on Syrian territory, it could be drawn into it if there is retaliation from either Syria or Hizbollah.
Opposition forces in Lebanon lauded the Israeli attack. Iran, while condemning Israel, said it would not intervene. A possible fear in Tehran is that if the war spreads it might be used as an excuse by Israel to attack Iran's nuclear facilities.
Sarin claims
Syrian rebels have made use of the deadly nerve agent sarin, UN investigator Carla del Ponte said.
"According to the testimonies we have gathered, the rebels have used ... sarin gas. We still have to ... verify and confirm." She gave no details of when or where.
Her commission, set to present findings in June, might still find proof the regime was also using chemical weapons, she said.
- AFP