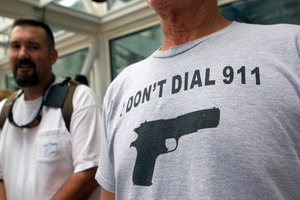 The members of America's most powerful gun lobby are fighting a "culture war" that goes beyond gun rights, the National Rifle Association's incoming president said Friday to open the group's annual convention, issuing a challenge to President Barack Obama and looking ahead to the 2014 elections for seats in Congress.
The NRA gathering this weekend is energized by the recent huge defeat of gun control proposals in Congress, proposed by Obama after a school shooting in Connecticut late last year left 20 young children dead. The high-powered rifle used in the killings was legally purchased.
Conference organizers anticipated a rollicking party both to celebrate the victory in Washington and to recharge for more political struggles at the state level. More than 70,000 people are expected to attend the three-day "Stand and Fight"-themed convention, which includes a gun trade show, political rally and strategy meeting.
Wayne LaPierre, the NRA's brash chief executive, speaks to the convention Saturday. Conservative leaders speaking include former Republican vice presidential nominee Sarah Palin and Sen. Ted Cruz, a Texas Republican who has become one of the top conservative voices in Washington since being elected last year.
NRA leaders and members are defining the recent battle over gun control in broader terms.
"This is not a battle about gun rights," incoming president James Porter said in a brief speech, calling it "a culture war."
"(You) here in this room are the fighters for freedom. We are the protectors," he said.
NRA Executive Director Chris Cox praised the organization's efforts to defeat the gun control bill.
"It was great to see the president throw a temper tantrum in the Rose Garden," Cox said.
Conference attendees Debbie and Daniel Ferris agreed with Porter's assessment.
"It's about fighting tyranny," Debbie Ferris said.
The conference is in Texas, one of the strongest gun rights states in the country. Gov. Rick Perry once bragged about shooting a coyote during a morning jog. Concealed handguns are allowed in the state Capitol.
Gun control advocates say they will have a presence around the convention, with plans for a vigil for victims of gun violence, a petition drive to support background checks for gun purchases and a Saturday demonstration outside the convention center.
Sandy Phillips, whose daughter was killed in the Colorado theater mass shooting in July 2012, met privately with Cruz this week. She said Cruz refused to budge on expanding background checks on gun purchases and told her he considered it the first step toward government confiscation of guns.
"They're always good at saying the right thing, 'I'm so sorry for you loss and da da da da da,"' Phillips said. "If you're really sorry for my loss, do something about it."
Despite polls that show most Americans favor some expansion of background checks, Ladd Everitt, spokesman for the Coalition to Stop Gun Violence, said a big challenge is matching the NRA's grassroots organizing.
"The NRA knows this issue is very much in play. People were sickened by that Senate vote," Everitt said.
Despite their loss in Congress, gun control advocates have scored significant victories at the state level. Lawmakers in Colorado passed new restrictions on firearms. Connecticut added more than 100 firearms to the state's assault weapons ban and now requires background checks for private gun sales. Maryland and New York have passed sweeping new gun laws.
"There have been significant victories (at the state level). We expect that to continue, and we're not giving up on the federal level," Everitt said.
- AP