Canberra seeking balance between potentially conflicting relations with China and United States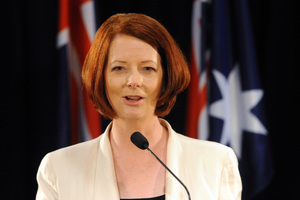 Faced with the rise of China and other regional powers as Western influence wanes, Australia will try to forge a new course in the emerging Indo-Pacific arc stretching from India through Southeast Asia to the volatile Northeast.
Its new defence white paper, released yesterday, says it will be harder for the nation to achieve or influence policies in its region, and will need to speak with a "clearer and stronger voice".
Muting earlier concerns, Canberra's new defence white paper also seeks a new balance between potentially conflicting relations with China and the United States. And it warns that Australia will need to sharpen its military to maintain its position as a middle power amid the increasing muscle and sophistication of other defence forces in the region.
The white paper makes it clear that it will continue to tighten its alliance with the US and to beef up its own capabilities, but Prime Minister Julia Gillard will give the Defence Force limited funding.
While allowing defence a modest increase above inflation, spending will contract further to 1.56 per cent of gross domestic product - its lowest level since the 1930s. But no specific figures have been announced, raising doubts about the ability to fund longer-term plans.
The Opposition has attacked the lack of detail and said it would produce a new white paper within 18 months if it won the September 14 election. With many of the major programmes already under way, Gillard announced few new plans for more hardware.
The air force will get 12 new Superhornet fighters with "Growler" packages able to block enemy communications and electronics, at a cost of A$1.5 billion ($1.8 billion) over four years.
They will join the 24 Superhornets already bought as a stopgap to cover the delayed arrival of 72 Joint Strike Fighters.
The white paper confirms plans to double the navy's submarine fleet to 12 boats, but ditches proposals for "off-the-shelf" vessels in favour of evolved versions of the present Collins class, or an entirely new design.
But it says the navy will not get a fourth air warfare destroyer to add to the three at present being built in South Australia.
The army will be restructured into three brigades based in Townsville, Brisbane and Darwin, each with its own armoured cavalry regiment, artillery, infantry, communication and engineer units, trained to operate from the two aircraft carrier-sized amphibious ships due to begin operating in the next two years.
Australian defence planning has been shaped by rapid change in the region.
The white paper says the global financial crisis has accelerated the shift in economic and military might to the Indo-Pacific, fraught with maritime and territorial disputes, flashpoints and rising defence capabilities that increase the risk of "destabilising strategic cooperation".
It says that while the region may be dominated by the US and China - and India in the longer term - the rise of other regional powers is creating a more complex and competitive order.
As nations in the west, including the US, reduce military spending, China's defence budget continues to grow significantly every year, increasing by 140 per cent since 2000. Spending was also rising in India, Japan, South Korea and Southeast Asia.
India is building new nuclear and conventional submarines, stealth warships and aircraft, and aircraft carriers. Southeast Asian nations are introducing sophisticated new weaponry and advanced submarines and warships.
But the white paper says that future stability remains with the ability of the US and China to successfully manage their relationship.
It says neither China nor the US wants conflict and that the two nations will be able to balance competition and co-operation.
The white paper says Australia - despite the tightening of its already close military ties with the US - will not be forced into taking sides, and that neither of the two giants believes it should have to make such a choice.