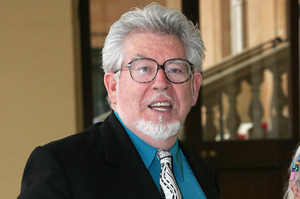 A former New Zealand woman has told Scotland Yard police she walked in on an "incident" in a London recording studio toilet involving television star Rolf Harris more than 20 years ago.
In an interview with Seven News, Kiwi Lauren Martell, who now lives in Sydney, said she contacted the Metropolitan Police when she heard about the sexual assault allegations against Jimmy Savile last November, the Sydney Morning Herald reported.
"I heard his name being bandied around and I thought, 'Well, I can offer something here'," Martell told Seven.
She told detectives that in the early 1990s she walked in on Harris in a toilet at a London recording studio, but no other details were broadcast.
Statements from two other Australian women will be taken by detectives in coming days.
Martell said she had told people in the past about the incident, but no one believed her. That is why she hadn't come forward until now, she said.
"I was only young and you don't run around saying, 'Rolf Harris did this' or 'I saw this' because nobody's going to believe you," she said.
"It's quite scary when you're 19, 20, you're a Kiwi backpacker, and you're in a London studio with people like this and you see what you see."
Scotland Yard police interviewed Martell in the presence of an Australian Federal Police detective.
It is understood two other women would be interviewed as part of Operation Yewtree, which was launched in the wake of the Jimmy Savile case.
The claims against Harris and Savile are not related, but are being investigated by the same taskforce.
- nzherald.co.nz