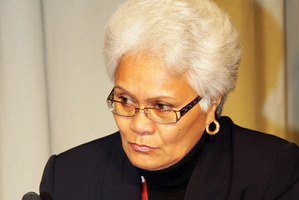 Gatoloaifa'ana Amataga Alesana-Gidlow has long been a champion of healthy living in Samoa.
The former Health Minister - now Associate Minister of Women, Community and Social Development - has been involved in projects helping to better people's health, particularly women's health, in her country. She has contributed to healthy food programmes and the improvement of hospital facilities in Samoa.
In Wellington last week, she was given some attention when she eloquently challenged New Zealand leaders to stop exporting fatty products, particularly mutton flaps, to "your poor and less developed neighbours in the Pacific".
Although admitting there was a demand for the fatty flaps, she cleverly referred to one of New Zealand's heroes to prove her point.
"When Sir Edmund Hillary was asked, 'Why did you climb Mt Everest?' he said, 'Because it is there'. So long as you export these fatty products, there will always be a market in the Pacific.
So let us work together in nipping the problem in the bud."
Speaking to the Herald this week, Mrs Alesana-Gidlow said it was hypocritical for New Zealand to send such products overseas because a lot of the time, it was having to fork out for medical bills later. In fact, the consequences of the importation of New Zealand's fatty products was only just starting to show in Samoa, she said.
"Thirty years back, mutton flaps were widely available and cheap. People were buying it in bulk every day. People started getting cars and then of course there was less activity.
"Thirty years on and 25 per cent of the country are diabetic. There is high blood pressure, heart disease, gout and obesity."
Mrs Alesana-Gidlow called on world leaders to make changes in foreign trade policies. "You must take into account your people's health because health is wealth. If people can't work, your economy suffers."