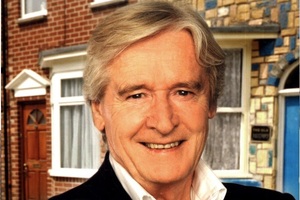 Coronation Street actor Bill Roache was last night charged with raping a schoolgirl more than 45 years ago.
Roache, 81, who has played Ken Barlow for five decades, will face court later this month accused of twice raping the 15-year-old in 1967.
He was taken into custody following a breakfast-time raid at his home in Wilmslow, Cheshire, yesterday.
Twice-married Roache, the world's longest serving soap actor, is one of the best known stars to be held over child sex allegations in the aftermath of the Jimmy Savile scandal.
Roache, who was appointed an MBE for services to TV drama, will not feature in the soap pending the outcome of the investigation.
Fellow Coronation Street star Michael Le Vell, who plays mechanic Kevin Webster, is also currently off air after being charged with 19 sexual offences against a child, including rape, indecent assault and sexual activity.
He denies the charges, which are not linked to Roache.
Roache's marriage to his first wife, Anna, ended in divorce in 1974. His second wife Sara died in 2009.
Earlier this year it was revealed he ended his two-year relationship with TV weathergirl Emma Jesson, 44, so he could explore a 'mystic message of love' linked to his membership of the Pure Love Movement, a religious group.
In a TV interview last year, Roache said he had slept with up to 1,000 women. In the interview with Piers Morgan, he told of his regrets at regularly cheating on his first wife.
Last night, a statement issued by the Crown Prosecution Service said: "The CPS has today authorised Lancashire Police to charge William Roache with two rapes allegedly committed against a 15-year-old girl in 1967."
Nazir Afzal, chief crown prosecutor for CPS North West, said: "We have carefully considered all the evidence gathered by Lancashire Police in relation to William Roache following allegations of rape.
"We have been reviewing evidence and providing early investigative advice to Lancashire Police since March 1, 2013.
"Having completed our review, we have concluded that there is sufficient evidence and it is in the public interest for Mr Roache to be charged.
"Mr Roache will appear at Preston magistrates' court on May 14. Mr Roache has a right to a fair trial and it is therefore very important that nothing is said, or reported, which could prejudice that trial. For these reasons, it would be inappropriate for me to comment further."
The announcement was made just after 8pm, some 12 hours after his arrest.
News of his arrest spread quickly after two police officers were seen at the gates to the driveway of his secluded £650,000 Wilmslow home. Police teams searched the property as Roache was taken to a police station to be questioned over allegations that he raped a 15-year-old girl in Haslingden, near Bury, between April and July 1967.
Roache would have suffered the indignity of being DNA tested and finger-printed, and of having to pose for a police mugshot. Shortly before 4pm, officers could be seen placing brown paper evidence bags inside an unmarked police car, which left shortly afterwards.
It was followed by two more unmarked police cars, each with three plain clothes officers inside.
Near neighbour Gill Chibnall, 73, said: "I'm absolutely shocked, I just can't believe it. I'm very sorry because he seems a nice chap, I can't really believe he would do anything like that.
"I haven't seen him this week, I only know him as a neighbour. He stops to say hello or chat about the weather. He is part of the community, when anybody wants anything opening he's always willing to help out.'

When told about Roache's arrest, another local, who asked not to be named, said: "What's he been up to? It's all rubbish, he's a lovely man."
In March, Roache issued a public apology after claiming sex abuse victims brought it upon themselves and were being punished for sins in a past life. He was interviewed for a New Zealand television news programme and discussing the Savile sex abuse scandal.
Roache said the public should not be judgmental but be "totally forgiving" of people who had committed child sex crimes.
Asked to clarify whether that meant victims brought the abuse on themselves, he said: "No, not quite, and yet I am, because everything that happens to us has been a result of what we have been in previous lives or whatever."

He also called for the same anonymity for those accused of child sex offences as alleged victims are given until conviction because of the stigma they faced even if subsequently found innocent.
"These people are instantly stigmatised, some will be innocent, some will not, but until such time as it's proven there should be anonymity for both," he said.
But his remarks were condemned by abuse charities - and Roache later issued a statement apologising, saying he was "sorry for any offence that has been caused as a result of my comments". The controversial comments came a week after a senior CPS prosecutor warned of a new wave of celebrity arrests in the wake of the Jimmy Savile scandal.
Other celebrities recently arrested - but not charged - over historic allegations of indecently assaulting under-age girls include entertainers Rolf Harris and Freddie Starr. Both have denied any wrong-doing in interviews with police.
Comedian Jim Davidson and ex-Radio 1 DJ Dave Lee Travis have also been arrested over alleged historic sex offences by officers on Operation Yewtree, the Scotland Yard probe launched in the aftermath of the Savile scandal.
The claims against them do not concern under-age girls.
Last week PR consultant Max Clifford was charged with 11 indecent assaults of girls and young women, including a 14-year-old.
The charges, which he denies, relate to offences allegedly committed between 1966 and 1985.
Last night none of Roache's four children from his two marriages would comment. His publicist did not return calls.
A Coronation Street spokesman said: "Given that a police investigation is under way it would not be appropriate for us to comment."
Lancashire Police said: "We take all allegations of sexual abuse extremely seriously and would encourage people with any information about sexual abuse, or anyone who has been a victim of sexual abuse, to come forward and report their concerns confident in the knowledge they will be investigated appropriately and with sensitivity."
- THE DAILY MAIL