Stronger militant support risks turning civil war into wider conflict.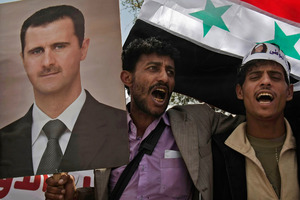 The leader of Lebanon's Hizbollah militant group said that Syrian rebels will not be able to defeat President Bashar al-Assad's regime militarily, warning that Syria's "real friends", including his Iranian-backed militant group, were ready to intervene on the Government's side.
Hizbollah, a powerful Shia Muslim group, is known to back Syrian regime fighters in Shia villages near the Lebanon border against the mostly Sunni rebels fighting to topple Assad.
The comments by Sheikh Hassan Nasrallah were the strongest indication yet that his group was ready to become far more involved to rescue Assad's embattled regime.
The comments came as United States President Barack Obama said he wants more information about the use of chemical weapons in the Syrian civil war before he decides on escalating US military or diplomatic responses, despite earlier assertions that use of such weapons would be a "game-changer".
The President said that if it is determined that the Assad regime had used chemical weapons "we would have to rethink the range of options that are available to us".
In the White House news conference marking the 100th day of his second term, the President said he had a full range of such "options on the shelf".
Beyond providing weapons and ammunition to the rebels, several government agencies are also drafting plans for establishing a protective "no-fly zone" over Syria and for targeted missile strikes, according to officials familiar with the planning. Officials said that Obama had not yet decided to proceed with any of the plans.
With the US disengaging from the unpopular war in Afghanistan and still smarting from the conflict in Iraq, Obama has been reluctant to unleash American military power in Syria.
In Damascus, a bomb ripped through a bustling commercial district, killing at least 14 people and bringing Syria's civil war to the heart of the capital for the second consecutive day.
"You will not be able to take Damascus by force and you will not be able to topple the regime militarily. This is a long battle," Nasrallah said, addressing the Syrian opposition.
"Syria has real friends in the region and in the world who will not allow Syria to fall into the hands of America or Israel."
Hizbollah and Iran are close allies of Assad. Rebels have accused them of sending fighters to assist Syrian troops trying to crush the two-year anti-Assad uprising, which the United Nations says has killed more than 70,000 people.
Deeper and more overt Hizbollah involvement in the Syrian conflict is almost certain to threaten stability in Lebanon, which is sharply split along sectarian lines, and between supporters and opponents of Assad. It also risks drawing in Israel and Iran into a wider Middle East war.
Nasrallah said there are no Iranian forces in Syria now, except for some experts who, he said, have been in Syria for decades. But he added: "What do you imagine would happen in the future if things deteriorate in a way that requires the intervention of the forces of resistance in this battle?"
Hizbollah has an arsenal that makes the group the most powerful military force in Lebanon, stronger than the national army. Its growing involvement in the Syrian civil war is already raising tensions inside the divided country.
Nasrallah also said his fighters had a duty to protect the holy Shiite shrine of Sayida Zeinab, named for the granddaughter of Islam's Prophet Muhammad and located south of Damascus. He said rebels have captured several villages around the shrine and have threatened to destroy it.
- AP
Soldiers die in bombing
Three British soldiers have been killed in a roadside bombing in Afghanistan, the largest number of fatalities in one attack for some time, as international forces prepare to leave the 12-year war.
The Ministry of Defence confirmed their deaths last night. The soldiers, from the Royal Highland Fusiliers, 2nd Battalion The Royal Regiment of Scotland, were travelling in a Mastiff armoured vehicle hit by an improvised explosive device (IED) in the Nahr-e-Seraj district of Helmand.
Six others were injured in the blast; their condition is not said to be life threatening. Nine Afghans were also reported to be injured.
- Independent