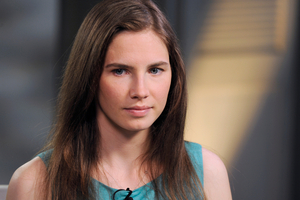 Amanda Knox has urged Meredith Kercher's parents to take her to their murdered daughter's grave, requesting that she be "reconsidered as a person" after her release from prison.
Speaking as her memoir on being jailed for the 2007 killing in Italy was published, the 25-year-old American made a tearful appeal for "closure" from John and Arline Kercher.
"The ideal situation in my mind is that they could show me Meredith's grave," she told USA Today. "I wasn't allowed to grieve, either, and that would mean a lot to me".
"I really want to go see her grave," repeated Miss Knox, who spent four years in prison before being acquitted. "And right now I don't feel I have the right to without her family's permission."
Knox spoke from her home in Seattle as Waiting To Be Heard, a candid autobiography for which she has been paid an estimated US$3.8 million ($4.4 million), went on sale in America.
She and her former boyfriend, Raffaele Sollecito, were freed in 2011 after appealing against their murder convictions. Another man, Rudy Guede, was convicted of the murder and remains in jail.
Facing a retrial ordered by Italy's Supreme Court, however, Knox likened her ordeal to being forced to crawl through a "field of barbed wire" to reach the "same side" as the Kerchers.
She told ABC News's Diane Sawyer that she wrote the book to respond in full to accusations that meant "for all intents and purposes I was a murderer".
"I want the truth to come out. I'd like to be reconsidered as a person," she said. "I was in the courtroom when they were calling me a devil. It's one thing to be called certain things in the media, but it's another to be sitting in a courtroom, fighting for your life, while people are calling you a devil."
Knox writes candidly about her enjoyment of drugs and casual sex in Italy, which led to suspicions that she and Sollecito may have attacked Kercher as part of a botched sexual game.
She explains that a pink sex toy mentioned by Kercher to her parents was a humorous gift from a friend. She also dismisses claims by Italian police that after Kercher's murder, she promptly bought g-string underwear. "It was red, but it's a pair of bikini briefs with a cartoon cow on it," she writes.
She disputes widespread reports after Kercher's death suggesting the pair, who were sharing a student house in Perugia, had disliked one another.
"We never argued about anything," she writes. "I treated Meredith as my confidante. Meredith treated me with respect and a sense of humour.
"She was more contained than I was, but we were both young girls who studied seriously and wanted to do well, who wanted to make friends and who'd had a few casual relationships."