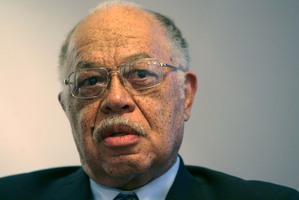 At first it seemed like a grisly backwater murder trial in which a Philadelphia abortion doctor was accused of killing a number of viable fetuses and an adult patient.
But the case of Dr Kermit Gosnell is now galvanising both sides of America's never-resolved debate about a woman's right to choose.
After a five-week trial that featured prosecution testimony of horrifying detail - expired babies left in shoe boxes, severed feet of fetuses preserved in glass jars - jurors yesterday began deliberating the fate of the 72-year-old doctor, whose clinic had for years been a venue of last resort for mostly underprivileged women seeking late-term abortions.
Conflicting narratives face the jurors, notably when it comes to the first degree murder charges relating to the four tiny victims known as Baby A, Baby C, Baby D and Baby E. Drawing on disturbing witness testimony, the prosecution said that when the normal procedure of injecting drugs into the mother failed to kill the fetuses in utero, Gosnell resorted to delivering them alive and administering a fatal snip to their spinal cords with surgical scissors.
The gap both in time and physical distance between administering death in utero and outside the mother lies at the heart both of the legal case and of the passions it has stirred far beyond the courtroom, even as far as the US Congress.
Guilty verdicts could result in a death sentence for the defendant, who is also accused of third-degree murder of a 41-year-old woman who died from an overdose of drugs administered during a termination.
Edward Cameron, the lead prosecutor, told jurors in closing arguments that Dr Gosnell was running an "assembly line" for abortions for poor, mostly minority women. "Are you human?" he asked Gosnell, "to med these women up and stick knives in the backs of babies?"
His defence contended that the movements or sounds seen in the four babies were normal post-mortem spasms, not those of a living being, and accused the prosecution of "the most extraordinary hype and exaggeration in the history of the justice system".
While the overturning of Roe vs Wade, the 1972 Supreme Court ruling that established a woman's right to choose, is the final goal, the pro-life lobby is already making headway in individual states with right-leaning legislatures and governors.
Whatever the verdicts, the trial has put the pro-choice forces on the defensive.
While they have condemned Gosnell, they make an opposing argument that his is precisely the kind of dark-alley clinic that women would have to turn to if abortion was to be more tightly regulated or even prohibited again in America.Independent