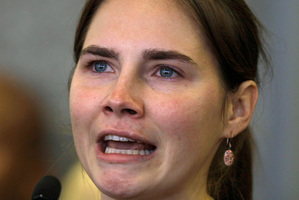 Amanda Knox, the American accused of killing the British student Meredith Kercher in Italy, has revealed how she wrote a letter to Kercher's family protesting her innocence.
Knox, who was released from jail after being cleared last year, discloses in a new book that ahead of her appeal she penned a personal message to the family saying: "I'm not the one who killed your daughter and sister."
However, she was advised at the time not to send the letter by her Italian lawyers, who feared that it could be seen as a "sympathy ploy" that might prejudice her chances of the appeal going her way.
Knox's attempts to reach out to the Kercher family are revealed in Waiting to be Heard, an account of the murders which will be published in the United States tomorrow.
In the letter to the Kercher family, Knox says: "In the relatively brief time that Meredith was part of my life, she was always kind to me. I think about her every day."
Knox, now 25, is back in her home city of Seattle in the US, after spending four years in prison when she was convicted along with her boyfriend, Raffaele Sollecito, for the murder of Kercher.
The 21-year-old, from Coulsdon, Surrey, was found stabbed to death at the flat she shared with Knox in Perugia, Italy, in 2007.
Knox now faces the possibility of an extradition request to face a new trial after her acquittal was overturned last month by the Italian Supreme Court.
However, it is thought unlikely that the US authorities would agree to it, given the widespread doubts over the original prosecution case that led to both her and Sollecito being freed.