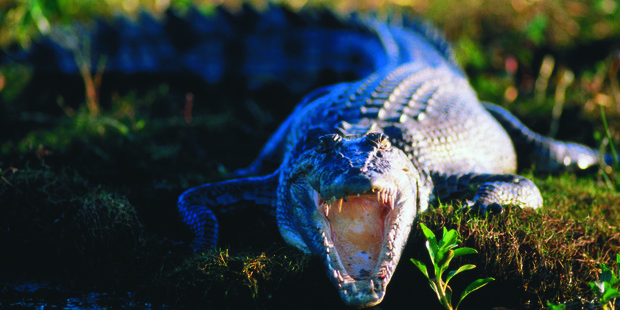 Worried about shark attacks off the pristine beaches in Australia's tropical north?
Surf lifesaver Col Sparkes breaks into a wry smile. "I wouldn't be too concerned about that," he says. "The story goes that there are no sharks up here because the crocs have eaten them all."
Sparkes might be joking, but his intent is deadly serious.
It's not sharks that concern a man who first patrolled the sand and surf of far north Queensland almost four decades ago.
Or lethal jellyfish that keep people out of the water for six months every year.
Sparkes believes saltwater crocodiles - some up to 4m long - now pose the biggest threat to a family day out at the beach.
"There were no crocs at all when I first started lifesaving but now we're getting monthly sightings," he says.
"They've been seen cruising 50m off shore and sunbaking on beaches."
Last year a 3.5m "saltie" snatched a dog at a creek that runs into popular Kewarra Beach, just north of Cairns.
"Our big concern is that a child could be taken," says Sparkes. "If things continue the way they are, I think that's inevitable."
The regional manager at North Queensland Surf Lifesaving is one of 12 members on a new community body set up by the state government this week to tackle what is viewed as a growing problem. Dubbed the "croc squad", their advice will augment recently introduced crocodile management plans.
The group includes local MPs, councillors and crocodile farmers who support the removal of salties from the area's waterways.
Sparkes blames the rising croc menace for a fall in the number of children enlisting in surf lifesaving clubs' popular "nippers" programmes. At one recent kids' event in Cairns a crocodile swam past just minutes after the young swimmers had emerged from the water.
Sparkes stops short of advocating a return to culling - which ended in the 1970s - but argues the pendulum has since swung too far away from public safety. Creeks and watering holes he swam in as a boy are now no-go zones because of crocodiles, he says.
For the same reason, during "stinger season" junior lifesavers can no longer train in nearby Lake Placid. Instead, they use a man-made lake.
"If you go back to the 1970s, when they were culling most of the crocs, it meant most of the big fellas were taken out," says Sparkes.
"We've now had 40 years of growth and that means there are crocs around that are 4m.
"Whether it's kids swimming in the surf or kayakers on a river, they want to do that without the fear of an attack by a crocodile.
"Most people in the community just want the crocs off our beaches so they can go for a nice day out and feel safe."
Sparkes supports drawing up a long-term plan to control numbers by capturing crocs and sending them to crocodile farms for breeding.
Salties have reportedly been sighted as far south as the Mary River in Maryborough, almost 1500km south of Cairns.
Many business owners fear an attack could hit the region's recovering tourism industry hard.
Announcing the advisory body, the state's conservative Coalition government said it was trying to strike the right balance between public safety and the conservation of a species.
"We've got to start putting public safety at the forefront," environment minister Andrew Powell told Brisbane's Courier-Mail.
"I will take advice from scientific groups, but nothing beats on-the-ground know-how."