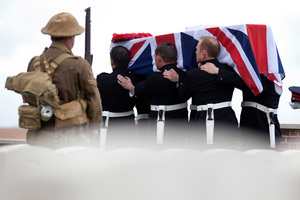 A large crowd gathered in the corner of a wheat field yesterday to bury four British soldiers they never knew, who were killed in World War I nearly a century ago.
Relatives came to shed a tear for the uncle or the great-grandfather or the great-great-grandfather they had never met. The four men died together in a German attack on British lines southeast of the French city of Arras on May 15, 1917.
Yesterday, they were re-interred with full military honours in a Commonwealth War Graves cemetery 5km from the field where their bodies lay undiscovered for 92 years.
A military band in red coats and bearskins played hymns and national anthems. A bugler sounded The Last Post. The village church of Ecoust-Saint-Mein, 800m away across the bleak fields, tolled its bell.
The bodies were dug up accidentally by a farmer, Didier Guerle, in 2009. He came along to pay his respects to "my boys". So did Prince Michael of Kent, the honorary colonel of the Honourable Artillery Company, to which the men belonged.
It is not unusual for the bodies of missing British soldiers of the 1914-18 war to turn up in the former battlefields of northern France. What was unusual, and deeply moving, about yesterday's ceremony was that two of the four soldiers had been identified.
Three generations of relatives, aged between 7 and 89, came from Britain to pay their respects to Lieutenant John Harold Pritchard and Private Christopher Douglas Elphick. The other, unidentified bodies were buried with equal ceremony in graves marked: "Known unto God".
Pritchard's oldest living relative, his nephew Harold John Shell, 89, said: "I was given his Christian names and I became a kind of living memorial. At each of my birthdays, my mother and her sisters would remember their missing brother with great sadness, especially his prowess as a chorister at St Paul's School.
"To find him, and then say goodbye to him, for my mother's sake, and to sing for him after all these years has been very moving."
Elphick's great-granddaughter, Jody Elphick, 33, said: "We all think that we know about World War I but it takes an extraordinary occasion like this to make the whole thing come alive."
John Pritchard, who was 31, and Douglas Elphick, 28, died in the final stages of the Battle of Bullecourt between March and May 1917.