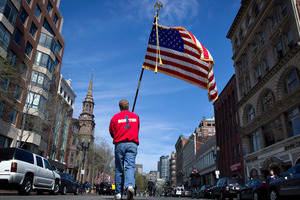 At first glance, Dzhokhar Tsarnaev appeared to be just another teenager standing along the route of the Boston Marathon moments before the carnage of last week's bombings.
Dzhokhar, 19, was seen with a white baseball cap on backwards, a backpack slung casually over his shoulder, and endlessly fiddling with his mobile phone.
But the University of Massachusetts student's ice-cold reaction to the first of the two bomb blasts - caught in detail by surveillance cameras - left FBI agents convinced of his involvement in the terrorist attacks.
While people around him react with shock and panic at the first blast, Dzhokhar ignores the mayhem before calmly walking away in the opposite direction, having allegedly planted the second backpack bomb - a pressure cooker packed with low-grade explosive, nails and ball-bearings - by the kerb.
Dzhokhar's chilling detachment was recounted in an affidavit by FBI special agent Daniel Genck, released after the teenager was charged with federal offences over the bombings that left three people dead and 200 injured.
Genck said a study of surveillance footage showed Dzhokhar - identified as "Bomber Two" - appearing to make a mobile phone call shortly before the first explosion.
"A few seconds after he finishes the call, the large crowd of people around him can be seen reacting to the first explosion," Genck states.
"Virtually every head turns to the east [towards the finish line] and stares in that direction in apparent bewilderment and alarm.
"Bomber Two, virtually alone among the individuals in front of the restaurant, appears calm. He glances to the east and then calmly but rapidly begins moving to the west, away from the direction of the finish line.
"He walks away without his knapsack, having left it on the ground where he had been standing."
About 10 seconds later, an explosion occurs in exactly the spot where Dzhokhar had left his backpack.
Dzhokhar could face the death penalty if convicted over the attacks he is alleged to have carried out with his older brother Tamerlan, who was killed during a dramatic confrontation with police.
Dzhokhar has reportedly told police Tamerlan was the driving force behind the attacks.
A US government source told CNN Dzhokhar told authorities that Tamerlan organised the plot because he wanted to defend Islam from attack.
Two US officials said preliminary evidence from Dzhokhar's interrogation suggested the brothers were motivated by religious extremism but were apparently not involved with Islamic terrorist organisations.
The surviving brother communicated with his interrogators in writing.
Police cautioned that they were still trying to verify what they were told and were looking at such things as his telephone and online communications and his associations with others.
Dzhokhar could face the death penalty or life imprisonment if convicted on the federal terrorism charges, the Department of Justice said.
He was charged as he lay under armed guard in his hospital bed with using a "weapon of mass destruction" in the attacks.
During the short bedside hearing he uttered what is believed to be his first word since his arrest, replying "No" when asked if he could afford a lawyer.
The White House earlier rejected calls by leading Republicans for Dzhokhar to be charged as an enemy combatant under the military tribunal system that is used to prosecute foreign terror militants. Jay Carney, the spokesman for President Barack Obama, said that under United States law, an American citizen cannot be tried by military commissions.
Dzhokhar, an ethnic Chechen, moved to America with his family in 2002 and became a citizen last year.
The complaint filed by the Federal Bureau of Investigations charged him with two preliminary counts: use of a weapon of mass destruction - the legal term deployed for the home-made pressure cooker bomb - and malicious destruction of property resulting in death. Further charges are expected to be brought.
The developments came as Canada released details of a terror scare.
Two foreign nationals have been arrested there in connection with what federal police say is a plot backed by al-Qaeda to derail a passenger train in the Toronto area.
"Today's arrests demonstrate that terrorism continues to be a real threat to Canada," Public Safety Minister Vic Toews warned.
Chiheb Esseghaier, 30, and Raed Jaser, 35, were allegedly planning to carry out an attack on a Via Rail passenger train, the Royal Canadian Mounted Police (RCMP) told a news conference. A bail hearing was set for today.
Charges filed against the two include conspiring to carry out an attack and conspiring with a terrorist group to murder people.
Assistant RCMP Commissioner James Malizia said the suspects "were receiving support from al-Qaeda elements located in Iran" but added: "There's no indication that these attacks were state-sponsored."
When asked to describe the kind of support offered, he replied: "Direction and guidance."
RCMP Chief Superintendent Jennifer Strachan said the duo, who had been under surveillance since last August, planned to derail a passenger train in the Toronto area, though she would not specify which route.
- Telegraph Group Ltd, AFP