Indian Govt criticised over priorities amid row over tycoon's protection.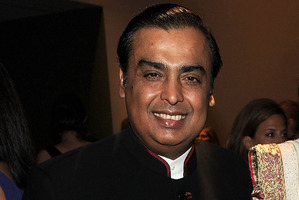 The Indian authorities have been accused of providing security for the rich and powerful but doing nothing for the safety of ordinary people after it was announced the country's wealthiest man is to get "VIP" police protection usually reserved for senior politicians and officials.
Billionaire industrialist Mukesh Ambani, who lives in a 27-storey Mumbai tower that reportedly cost as much as £1.30 billion ($2.3 billion), is to have a team of up to 24 armed policemen to provide around-the-clock protection after he received a threatening letter from extremists.
The Government has defended the move, saying that Ambani is a "national asset". But campaigners say the move underscores the priorities of a Government that has been accused of doing not enough to protect ordinary women and children from rapes and sexual assaults.
"On one hand the Government is acting like a security agency for Ambani, but at the same time it cannot provide security to its own people," said Manish Sisodia of the Aam Aadmi Party. "Its priority is not the common people of the country - it's Ambani."
The Government said it was to provide security to Ambani after he received a handwritten letter two months ago which threatened to attack the industrialist's home. Reports suggest the Indian mujahideen, a shadowy organisation often blamed for bomb attacks in India, is believed to have sent the letter.
Information Minister Manish Tewari said: "Security is given only after threat perception assessment."
The Indian media speculated that Ambani, said by Forbes to be worth £14 billion, may have been targeted because of his perceived close relationship with the controversial Chief Minister of the state of Gujarat, Narendra Modi, who has been accused of failing to prevent the massacre of hundreds of Muslims in 2002. Ambani's Reliance Industries has declined to publicly comment on the development. But it is understood the industrialist will contribute to the protection team's monthly costs of up to £11,000.
But it is not just a matter of money. This year, India's Supreme Court condemned the VIP protection culture that was taking up thousands of police officers who could otherwise be involved in regular duties.
In the aftermath of the December 16 gang-rape and murder of a young student, the court asked the authorities to redeploy officers to protect women. Of the 75,000-strong Delhi force, a minimum of 8049 are involved in protecting 460 VIPs, an average of 17 officers per official as opposed to one police officer for every 250 ordinary citizens. Based on the Government's own data, across India there is just one officer for every 760 people.
Protesters have been demanding the authorities do more to protect ordinary citizens, particularly women.
There were protests in several locations, including outside the All India Institute of Medical Sciences in Delhi, where a young girl is being treated after being attacked and raped.
Dr DK Sharma, the hospital medical superintendent, said the 5-year-old was making steady progress after being assaulted and having a bottle and parts of a candle pushed inside her. Yet reports suggest another young girl, aged 4 and attacked in the city of Nagpur, is still struggling and on life support.
One protester, Yogita Chakraborty, said the authorities had to take more incisive action. She said too many police officers were unwilling to register rape cases.
As a "Z Category" VIP, Ambani will have security guards, an escort and a pilot car.
A key asset
* US$21.5 billion fortune
* 1 richest man in India
* 22nd richest man in the world
* US$1 billion house in Mumbai.
- Independent