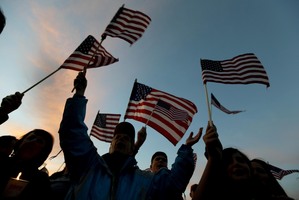 Federal authorities want to speak to the wife of suspected Boston Marathon bomber Tamerlan Tsarnaev, and her lawyer said he was discussing with them how to proceed.
Amato DeLuca said Katherine Russell Tsarnaev did not speak to officials who came to her parents' home in North Kingstown, Rhode Island, yesterday, where she has been staying since her husband was killed during a getaway bid on Saturday. Her mother, Judith, 56, is a nurse, and her father, Warren, 55, a doctor.
DeLuca said he spoke to the officials instead, but would not offer further details.
The lawyer did offer new details on Tamerlan's movements in the days after the bombings, saying the last day he was alive "he was home" when his wife left for work. Asked if anything had seemed amiss to his wife after the bombings, DeLuca responded, "Not as far as I know." He said she learned her husband was a suspect by seeing it on TV.
DeLuca said his client did not suspect her husband of anything, and there was no reason for her to have suspected him. She had been working 70 to 80 hours, seven days a week as a home healthcare aide, her husband caring for their toddler daughter while she was at work.
He said Tamerlan's brother Dzhokhar had been off at college and she saw him "not at all" at the Cambridge apartment they shared with her mother-in-law.
Katherine Russell Tsarnaev was at Suffolk University in Boston when friends introduced her to her future husband at a nightclub, DeLuca said. They married in 2009 or 2010.
She had been raised Christian but at some point after meeting Tamerlan converted to Islam. Asked why she converted, he replied: "She believes in the tenets of Islam and of the Koran. She believes in God."
Her ambitions, expressed in her school yearbook, were similar to those of friends growing up in a New England town. She went on to study at Suffolk University in Boston. Her daughter, Zahara, is now aged 3.
Yesterday a newspaper published a photograph of a woman in a headscarf who it said was Katherine Russell Tsarnaev returning to the Cambridge house. The New York Post said neighbours confirmed her identity, and said she had come back to pick up a cat and some belongings in a duffel bag. The Boston police and the FBI declined to comment on who the woman was.
Ammon Albrecht, 18, who lived in the apartment below the Tsarnaev brothers for the past two months, said he believed the returning woman was Katherine Russell Tsarnaev but could not be sure. "I've only seen her once, at the police station but at the time the police told us that was who she was."
- Telegraph Group Ltd, AP