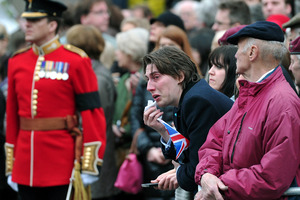 Out in the Strand, a Filipino artist called Chito Salarza-Grant was showing off his Thatcher hat.
It was a fantastic creation, an elaborately wrought cube whose sides bear images of Thatcher's face, backlit by flickering holograms. On the crown a miniature supermarket trolley, in homage to her birth as a grocer's daughter, and Union Jacks.
Salarza-Grant admitted he wasn't around in Thatcher's heyday - he was studying art in Manila - "but I feel she empowered generations of women around the world. I like her because I'm gay and I like how tough she was in a world dominated by men."
An elderly passerby, who had stopped to listen, turned away in exasperation. "Good riddance to the old bag," she muttered.
That brisk exchange set the tone for the funeral of Britain's first woman Prime Minister: great admiration, extreme condemnation, lots of voices and display, plenty of eccentricity, and absolutely no sense of a nation united in grief.
"We've come up to London for the day," said Melissa Cordingley from Salisbury, "and felt we ought to attend Mrs Thatcher's funeral because, although she had many faults, she turned the country around. In the 1980s, I was bringing up young children and to have a woman in charge at No 10 meant a lot. I think people felt secure with Mrs Thatcher. She wasn't perfect but she was, by and large, brilliant." Patricia Welch, 69, a retired health worker, said: "I came up for the day from Winchester because I was so outraged I couldn't stay at home. To think they're closing down the SureStart nursery in Portsmouth and spending £10 million on a Tory jamboree."
Some signs silently expressed outrage at the funeral's cost, while others simply read "Thank You, Mrs T" or "Margaret Thatcher put the Great back into Britain".
Across the road a contingent from the Socialist Workers Party held up a huge banner showing Tony Blair, Gordon Brown and Sir Fred Goodwin locked in a tendrilous embrace. A sign nearby read, nostalgically, "We remember the miners, Falklands, Bobby Sands, poll tax - now bury Thatcherism." This conflation of present and past was apparent everywhere, as if Thatcher had only recently relinquished power.
As the now-empty gun carriage returned down Fleet St, the sun came out and the mood of the crowd lifted. The old lady beside me told her handsome grandson, "I think it's been a lovely day, all in all."
Two men in suits furled up a giant banner saying "Conservative". The edgy dissidents from the SWP addressed yet another camera crew about the military-industrial complex.
And the great British public, having striven to their utmost to be furiously right or left-wing for a couple of hours, went to lunch. It had all gone off jolly well, on the whole.
- Independent