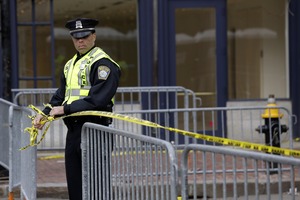 When Rene Cappas drove his delivery van into downtown Boston on Tuesday, just hours before the city's annual marathon was hit by two explosions, he was stopped at a checkpoint and questioned about where he was heading.
"They asked me what building I was going to, where I was taking the package, what floor," he said. Police officers, patrolling the annual event that draws an estimated half a million spectators, also looked in his van.
Harry Flores, who arrived in downtown Boston via public transport, faced no such scrutiny.
"There was a lot of security, there is always a lot of security. But I didn't see any checkpoints," he said yesterday. In contrast, yesterday, with security stepped up across the area after the bombings, his bags had been searched as he got on the train.
Other spectators who made their way along the final stretch of the marathon also said while they had encountered a significant police presence on Tuesday, they had not been stopped or their bags searched.
A federal law enforcement source told CNN last night that a lid to a pressure cooker thought to have been used in the bombings had been found on a roof of a building at the scene.
As attention turns to what could have been done to prevent the bombings, and how the security regime might be enhanced for next year's race, the difference between the experience of Flores and Cappas is likely to be among the issues that will be debated among officials.
Any gaps in security that may have occurred in the run-up to the Boston race are also likely to be fully scrutinised by London Marathon organisers.
It is due to proceed as scheduled on Monday but with increased scrutiny of the spectators. MI5 head Jonathan Evans met Home Secretary Theresa May and the Scotland Yard assistant commissioner for specialist operations, Cressida Dick, yesterday to review security arrangements for the event, which is expected to draw half a million spectators on to the streets, lining the 42km from Blackheath to central London.
Intelligence officials acknowledge there is always the possibility that despite all the precautions taken and the application of tried and tested security principles, there may be an attempted attack.
- Independent