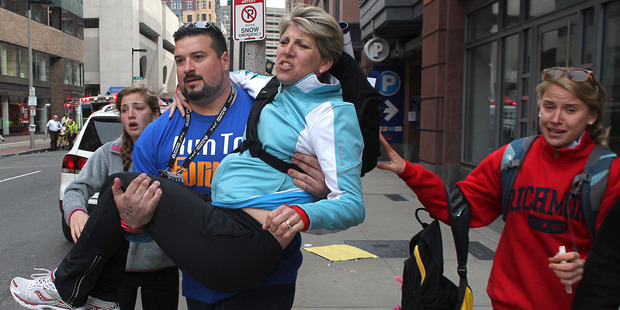 Raw: Runner films first Boston blast
A Boston Marathon runner planned to film his approach towards the finish line, recording his moment of achievement. Instead, the runner caught the first of the two blasts on film, providing a first person look at the explosion, and the first moments of panic which followed.
Boston Marathon: 2 explosions caught on tape
Fifteen seconds after the first explosion, a second bomb went off a block further from the finish line. This CBS news footage looks back from the finish line of the marathon as the explosions occur, leaving the area in a state of chaos with three dead and at least 140 injured.
Witnesses describe Boston Marathon explosion
As footage of the immediate aftermath of the explosions began to emerge, a reporter and several marathon runners managed to speak to the Associated Press, describing what they heard and saw and the reactions of those around them as people froze and turned around after the first blast, only to be faced by the second.
Boston: 'Confusion' after blasts
Jay Lindsay, an AP reporter who was present at the marathon, describes the confusion following the blasts, and remembers briefly wondering whether it was thunder he had heard overhead when the explosions occurred. Lindsay managed to speak to a man who had finished the marathon before the blasts who recalled the gruesome scene, mentioning missing limbs and makeshift emergency care for injured people. Lindsay also spoke of the first police press conference following the blast, saying the police commissioner was unsure of whether it was a terrorist attack, yet advised people to "draw their own conclusions".
Tears, anger: Boston Marathon explosions
People close to the finish line at the time of the explosions reacted in disbelief as they recall the events. One woman, seated in the VIP area close to the finish line, saw a bomb explode across the street, describing the scene as "people blew up on the street" in front of her. A short while after the blasts, when the initial shock had passed, witnesses began to lament the fact that such a good occasion was spoiled by a horrible event.
- nzherald.co.nz