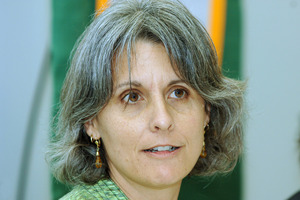 Former New Zealand politician Laila Harre says there is an "eerie" feeling today on the streets of Boston near where she had crossed the finish line of the marathon minutes before the explosions that killed three people and injured many more.
"It's a very different scene from yesterday. It's now empty blocks and it feels kind of eerie," Ms Harre told TV3's Firstline.
"At the time of the explosions the scene was incredibly calm where I was. We weren't in the immediate area of the explosions ... [and] people reacted really calmly.
"I didn't quite know what to do.
"I managed to find somebody who was heading in the same direction as me because public transport was closed down so I had to walk several kilometres to get back to where I was going."
Ms Harre said she was wearing a Boston Marathon coat and had been asked by many people how she was feeling and whether she finished the race.
"There's a lot of public warmth and aroha and it's quite an extraordinary feeling in the city," she said.
"I'll certainly run another marathon I hope. The Boston Marathon was an absolutely extraordinary event.
"For the people of this city I hope the circumstance yesterday doesn't dampen their enthusiasm for something they do in the most extraordinary way.
"The awfulness of this attack is it seems to have been aimed at the ordinary people of Boston who form the most incredible crowd of supporters and spectators that any amateur like me could have."
- APNZ