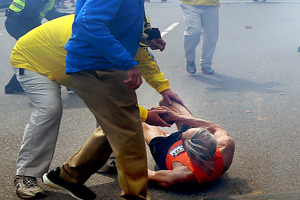 The Boston bombings have reaffirmed Australia's commitment to its burgeoning counter-intelligence agency, which is preparing to move into a new A$600 million ($732 million) home on the rim of Canberra's Lake Burley-Griffin.
Although the terrorism alert status remains at medium, despite the carnage of the Boston Marathon, the nation believes it remains at risk of violent terrorism, from abroad and from a growing threat of home-grown radicals.
The Australian Security Intelligence Organisation now believes the war in Syria could be grooming more potential terrorists from Australia, drawn from hundreds of young men who have left to join the conflict. Most were born in Australia, or arrived as young children.
"Some of these Australians, regrettably, are going to assist or work with or join terrorist organisations that are proscribed in Australia," Attorney-General Mark Dreyfus told ABC radio.
"That's against Australian law for good reason and that's obviously a concern."
ASIO has ballooned since the 9/11 terror attacks on the United States and the subsequent bombings in Bali, bolstered by massively expanded budgets and staffing, new powers, and a battery of legislation.
The agency's workforce has trebled to about 2000 and its annual budget has soared sixfold to more than A$400 million, although it was warned in last year's federal budget statement that the brakes were about to be applied.
The statement said that ASIO would now have to adapt to "a significantly tighter budgetary environment", and that cost-saving and a range of other measures would become critical.
This still leaves ASIO as one of the most potent federal agencies, underscored by its new building next to the Defence complex in Constitution House, commissioned in 2007 by former Liberal Prime Minister John Howard.
The cost was originally set at A$460 million, the most expensive federal building since new Parliament House across the lake, itself reportedly the costliest in the Southern Hemisphere by the time it opened in 1988.
The price tag has since rocketed, now topping A$630 million, and delays have pushed back its opening from last December to the middle of this year.
It has been a vast undertaking, complicated by complex security and communication requirements, including specialised landscaping, biosecurity screening, and generators, water supplies and sewerage systems able to run for at least three days on their own.
The 40,000sq m building will operate 24 hours a day, expanding its operations into such new fields as cyber-terrorism.
But a central target remains Islamic fundamentalism, with ASIO working through ethnic and religious communities to encourage what it describes as "voices of moderation".
In his most recent public assessment of the risk facing Australia, director-general David Irvine said the country remained a target for a range of individuals and groups who would promote their belief systems and through violence sought to destroy the nation's democratic way of life.
He said Islamic extremism was "ongoing, pervasive and persistent", with a small but steady number of Australians travelling overseas for terrorist training or to join armed conflicts. At the end of last year, ASIO was conducting about 200 counter-terrorism investigations.
"It is a fact that we continue to have in Australia people who believe in violence as a means to fulfil perceived religious obligations," Irvine said.
"They reject outright Australia's right to democratic self-governance and our separation of church from state.
"They also reject Australia exercising its influence in Muslim-majority societies overseas."
Irvine said some extremists wanted to create a caliphate - a transnational Islamic state governed strictly according to sharia law - and were prepared to use extremely violent measures to make their point, either in Australia or overseas.
Few foreign terrorists were trying to move to Australia, but there had been an increase in efforts by Australians who wanted to support acts within the country or travel overseas to join violent jihad.
Syria was the latest concern. Irvine told reporters this week that "we are talking in the hundreds and not the tens" of young Australians heading there, although some would be supporting services such as health and medical efforts, rather than fighting.