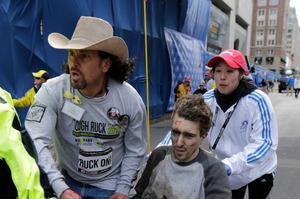 One of the most graphic images to emerge from the Boston Marathon bombings was of a young man who appeared to have lost both his legs.
He was conscious and gripped a tourniquet above one thigh as rescuers frantically wheeled him to help.
One of those rescuers has been identified as Carlos Arrendondo, a Costa Rican immigrant whose son, a Marine, died serving in Iraq in 2004, motherjones.com has reported.
The day he learned of his son's death, Arrendondo - who is wearing a cowboy hat in photographs of the scene - locked himself in a van and set it on fire.
He survived the incident and became a peace activist, and was among those who rushed towards the carnage after yesterday's explosions.
Yesterday he tied the tourniquet on to the young man's legs and wheeled him past the finish line to get emergency help.
A video interview has emerged of the man just moments after putting the victim into an ambulance.
"All you could see everywhere were limbs, I mean ripped off limbs everywhere," he said.
Arrendondo was across the road from the first bomb blast and had been handing out American flags at the event.
In the video interview he shook uncontrollably as he tried to unroll a flag he still held, revealing a large blood stain.
"There was so many people laying there begging me for help ... But I only could help one at a time so I only just helped that young man."
He thought he saw women who had died, he said.
"I just concentrated on that young man and his legs.
"I tied him up and talked to him and kept him conscious and [was] letting him know that the ambulance was on the way.
"I kept him awake and made him stay with me, then took him to the ambulance and I escorted him out."