British police review safety precautions for popular race and Thatcher funeral as security tightens at sports venues and landmarks across US.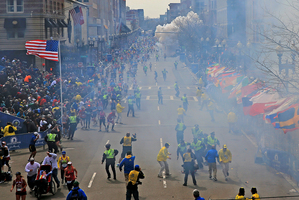 British police are reviewing security plans for Sunday's London Marathon, the next major international marathon, because of the Boston bombing.
But there is no known specific or credible threat against the British race at the moment, a security official said.
Sports Minister Hugh Robertson told the BBC he was "absolutely confident we can keep the event safe and secure".
The London Marathon is hugely popular. Last year about 37,500 athletes ran, with many more watching it.
Police already were preparing a major security operation for tonight's ceremonial funeral for former Prime Minister Margaret Thatcher, an event at St Paul's Cathedral that will be attended by the Queen and many dignitaries.
The plans call for a procession through the streets of London, with Thatcher's flag-draped coffin to be carried on a horse-drawn carriage.
The funeral's security plans are expected to be reviewed in light of the Boston bombings.
London has long been considered a top target for international terrorists, with the Government saying the threat level is "substantial". London and mainland Britain also face a moderate threat from Northern Ireland-related terrorism, according to the Government.
The Boston situation sparked alarm bells in Britain, where a huge security operation was put in place last year to protect the London Olympics.
Chief Superintendent Julia Pendry, police commander for the London race, said: "A security plan is in place for the London Marathon. We will be reviewing security arrangements in partnership with [the organisers]."
A police spokesman said the security presence may be increased. A security official said there were no credible or specific threats against the London Marathon.
The 2010 British satirical film Four Lions followed a group of homegrown terrorist jihadis from Sheffield who target the London Marathon.
The London race's chief executive, Nick Bitel, said marathon officials contacted the police to discuss security plans "as soon as we heard the news" about Boston.
He expressed shock and sadness about the situation in Boston. "It is a very sad day for athletics and for our friends in marathon running."
From the World Trade Centre and Times Square in New York to the White House and sports venues across America, police patrolled in packs and deployed counter-terrorism teams yesterday as security was stepped up.
Security was tightened at landmarks, government buildings, transit hubs and sporting events. Law enforcement agencies also urged the public via Twitter and Facebook to report suspicious activity to the police.
In New York, authorities deployed so-called critical response teams, highly visible patrol units that move in packs with lights and sirens, with more than 1000 counter-terrorism officers. Highly popular areas such as the Empire State building, Rockefeller Centre, St Patrick's Cathedral, the United Nations and the World Trade Centre site were being especially monitored.
Mayor Michael Bloomberg said the police department was fully prepared to protect the city.
"Some of the security steps we are taking may be noticeable," Bloomberg said. "And others will not be."
In Washington, Secretary of Homeland Security Janet Napolitano urged the American public "to be vigilant and to listen to directions from state and local officials".
"At the President's direction, the Department of Homeland Security is providing any support necessary in this ongoing investigation," Napolitano said.
At the White House, the Secret Service expanded its security perimeter after the attacks, shutting down Pennsylvania Ave and cordoning off the area with yellow police tape.
Several Secret Service patrol cars blocked off entry points, although the White House was not on lockdown and tourists and other onlookers were still allowed in the park across the street.
Police in Los Angeles, Washington, San Diego, Las Vegas, Detroit, Atlanta and other major cities were monitoring events closely and assessing increases in security measures.
-Independent, AP