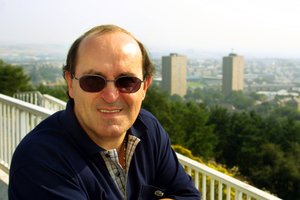 A globetrotting conman who came to New Zealand on a purported $69 million property spending spree will spend the next 14 years in prison in the United Kingdom.
Giovanni di Stefano came to Auckland in 1990 claiming to be a successful businessman wanting to invest in the property market but left after being exposed by a television reporter as a convicted fraudster.
His property deals - in which no money was exchanged - were investigated by the Serious Fraud Office and he was barred from the country for failing to disclose his five-year jail term in Britain.
The last memory most New Zealanders will have of Di Stefano is his attack on the reporter who uncovered his dodgy past, Mike Valintine, after the Holmes TV crew pursued him to Honolulu airport.
But di Stefano turned up in the United Kingdom where he reinvented himself as a defence lawyer who specialised in "unwinnable cases", even turning up at the side of the warlord Arkan - better known as the Butcher of Belgrade.
Calling himself the "Devil's Advocate", he represented some of England's most notorious criminals including Ronnie Biggs of the Great Train Robbery infamy and was also briefly appointed as a director of soccer club Dundee FC in Scotland.
He managed to overturn a manslaughter conviction in a high profile case in 2002 and secured the release of John "Goldfinger" Palmer from prison on a technicality for a massive timeshare fraud.
Despite his success, the 57-year-old was not qualified as a lawyer.
His lies eventually unravelled and his legal career ended when he was convicted of 25 charges, including deception, fraud and money laundering between 2001 and 2011.
During the trial, di Stefano claimed to have links to Robert Mugabe, Osama bin Laden, Saddam Hussein and a "friendship" with the daughter of Slobodan Milosevic.
Di Stefano was last month sentenced to 14 years in prison after the judge said he duped "desperate and vulnerable victims" into thinking he was a legitimate legal professional.
Judge Alistair McCreath noted there were many offences over significant periods of time and di Stefano conned clients out of millions of pounds.
He said the victims, who included a disabled man seeking damages for the loss of an arm, trusted di Stefano with their money but also their lives.
The "raising and dashing of false hope" for this clients was an aggravating factor, said Judge McCreath.
He told di Stefano: "I recognise that you did not actively seek out those whom you defrauded. They came to you. You did not approach them but there is more than one kind of predator. Some predators hunt down their victims, others lie in wait for them.
"You had no regard for them nor for their anguish," he said. "Your only concern was to line your own pockets."
Giovanni di Stefano
*Came to Auckland in 1990 claiming to invest millions in the property market.
*Unmasked as a convicted fraudster and barred from re-entering the country.
*Went to Britain and posed as a lawyer, known as the Devil's Advocate, even winning some high profile cases.
*Eventually exposed as a conman and convicted of of 25 charges including deception, fraud and money laundering.
*Jailed for 14 years.