Tories blast Labour MPs who turned up and proceeded to condemn her record.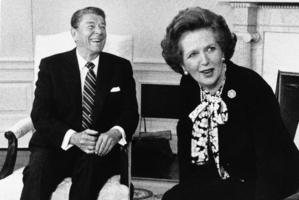 A show of unity by Britain's three main political parties over Margaret Thatcher since her death ended when Labour MPs launched strong attacks on her record during Commons tributes to her.
Leader of the Opposition Ed Miliband won praise from Conservative MPs for a statesmanlike speech in which he praised the former Prime Minister as a "unique and towering figure".
But he disagreed with much of what she did, saying that mining communities felt angry and abandoned, while gay and lesbian people felt stigmatised by her measures such as section 28, which prevented councils from "promoting" homosexuality.
There were angry scenes when Labour MPs condemned the impact of Thatcher's policies on their constituencies, and the rise in unemployment to more than three million while she was in office. They were jeered by furious Tories, who accused Labour members of breaching Commons rules for such a session of tributes after the death of a senior politician. But John Bercow, the Speaker, rejected the Tory complaints.
Although Parliament was recalled from its Easter break for one day, many Labour MPs boycotted the session. While there was standing room only on the Tory side, there were soon big gaps on the Labour side. Labour officials insisted there had been a good turnout of more than 100 of the party's 256 MPs.
Michael Meacher, a former Environment Minister and Labour MP for Oldham West and Royton, said Thatcher's "scorched earth" tactics had polarised the nation. "Too many industries, too many working-class communities across the north were laid waste during those years without any alternative and better future to replace what had been lost," he said.
Diane Abbott, a Labour frontbencher, said: "Whether it was the people who felt the poll tax was imposed on them wrongly, whether it was young people who were caught up in the difficult relationship between the police and communities in our inner cities, whether it was people who were dismayed at our unwillingness to impose economic sanctions on South Africa and dismayed as well by her insistence on calling the ANC a terrorist organisation, or whether it were communities caught up in the miners' strikes, there are still people living today who felt themselves on the wrong side of those titanic struggles."
Prime Minister David Cameron said: "She ... made history and let this be her epitaph - that she made this country great again."
- Independent