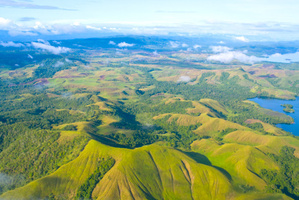 Two women have been beheaded while another woman and her two daughters await the same fate as a they are held captive on accusations of sorcery in Papua New Guinea.
The woman, who is suffering severe lacerations to her neck, and her daughters have been held captive in Lopele in Southern Bougainville since early last week, Amnesty International said.
Locals have set up road blocks to prevent a further three women from leaving to seek medical attention. All six have been accused of "sorcery".
The captures follow the deaths of two elderly women, who were tortured by angry villagers for three nights. Their heads were cut off in front of police who were apparently helpless to intervene, local media reported.
Amnesty International's says police efforts are not good enough, with only one officer being sent to Lopele to negotiate the women's release
"The response of the police to this and other appalling similar incidents in Bougainville and Papua New Guinea has so far been seriously inadequate," said Kate Schuetze, Amnesty International's Pacific researcher.
"The regional police headquarters must direct all available resources to save this woman's life and ensure her and her daughters' safe release."
Legislation in the country that protects people who commit violence against those they suspect of performing witchcraft has been making headlines lately, especially following an Easter "witch-hunt" that saw the torture of seven suspected "sorcerers".
Amnesty International wants to see the legislation repealed.
The problem of sorcery-related violence has, however, become so severe in recent weeks that calls have even been made to reinstate the death penalty.
The Pacific Islands News Association (PINA) reported that the Secretary for the Department of Justice Dr Lawrence Kalinoe said the death penalty should be imposed for those involved in the violence.
"The hands of the government are being forced to do this. As a responsible government, we cannot stand by and do nothing about such horrendous brutality," he said in a statement.

"We must now put a stop to this by imposing the ultimate criminal penalty that is available under law - impose the death penalty."
The global report on death penalty statistics, released by Amnesty International yesterday, showed countries moving away from capital punishment, but some alarming trends in the Asia-Pacific region. Read the full report here. here.