Youth role model now poster girl for digital difficulties after old posts catch up with her.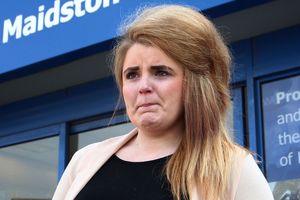 If waking up to find your old tweets dredged up and splashed on the front page of a Sunday newspaper wasn't enough of a rude awakening for Paris Brown, the ordeal had only just begun.
The teenager dutifully appointed as Britain's first Youth Police and Crime Commissioner was hauled in front of TV cameras to explain references made when she was as young as 14 in which she condoned drug use and referred to "pikeys" and "fags". Yesterday she resigned.
Explaining the tweets, she said: "It's an age thing. Older generations haven't grown up with Twitter and social media. For young people it's different. You don't want to bother people with your problems. You just think, I'm annoyed, Tweet!"
Brown, who was 17 last week, said that she was not racist or homophobic but that she would not be taking up the £15,000-a-year ($27,000) post days after her appointment after falling into the "trap of behaving with bravado on social-networking sites".
She has become the poster girl of a generation that is growing up in uncharted digital waters where past transgressions are resurfacing later in life. Kent Police said that it was investigating to see if the tweets amounted to criminal conduct. Kent Police and Crime Commissioner Ann Barnes said that her apprentice has been forced to "grow up".
She is not the only one. Labour frontbencher Chuka Umunna, 34, was recently forced into an apology after past online musings. Messages written under a pseudonym described London's West End as "full of trash and class-C wannabes". It might have been an honest impression of London nightlife five years ago but it wasn't a turn of phrase a young MP with ambitions of higher office would want to be readily associated with now. It was later alleged that Umunna or a member of his staff tinkered with his own Wikipedia entry to allegedly compare his political prowess to US President Barack Obama.
"We're about to have our attitudes truly tested," warns Katy Howell of social media agency Immediate Future. "If you think the odd racist tweet is bad, wait until the 14-year-olds that are compromising themselves on Tumblr become famous or assume boardroom positions in 15 years ... There'll be far more uncomfortable revelations and careers, and even people's lives, risk being derailed."
It comes amid much fear over the way social media is used. "Even before they make it into high-profile positions people need to start consciously deciding why and how they plan to use a social network," says Prashant Yadave, of the agency Karmarama.
The EU is moving to legislate for data to be eradicated from companies in what is billed as "the right to be forgotten". Britain has hitherto opposed the moves, with Justice Secretary Chris Grayling believing it to create legal difficulties because of the virtual impossibility of fully removing all data from the internet. Businesses, too, fear it could wreck what is now one of their most effective ways to reach customers, with digital adspend worth billions.
But would any of this legislation have helped Paris Brown? Unlikely, says Jim Killock, head of the Open Rights Group, which campaigns for privacy and consumer rights online. "It may be that she could have asked for the account to be deleted in full but it wouldn't remove the historic record of what she said, which might well remain in other caches on other sites or in other places."
- Independent