Grim news overshadows big trading announcement from China.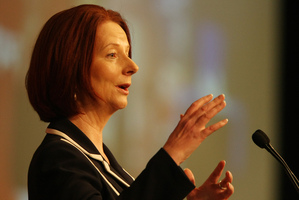 Founded as a saddlery more than 150 years ago and producing the first Australian car in 1948, Holden is now staring into a bleak future.
Although taken over by General Motors in 1931, making Oldsmobiles and other American marques after World War II, and basing its initial FX on an unwanted Chevrolet design, the company has always felt as Aussie as Vegemite.
Now, after 170 redundancies last November, Holden plans to shed another 400 jobs in Adelaide and 100 in Melbourne. Its long-term future is uncertain.
Holden's announcement was not only bad for Australian manufacturing. It was grim for Prime Minister Julia Gillard, who once again lost a triumphant centre stage.
Gillard has been in China talking up trade and announcing that Australia would become only the third country - with the United States and Japan - able to convert its currency directly into Chinese yuan. That is extremely good news for the 10,000-odd companies trading with mainland China and Hong Kong, who have previously had to slingshot currency through either the US dollar or the yen.
Holden's problems washed right across Gillard's deeply pitted road to the September 14 election, which the latest Newspoll in the Australian continued to predict would be lost to an Opposition landslide.
The most emotive issue is the loss of jobs in an extremely high-profile company, flowing to much larger numbers in downstream suppliers.
In the past 10 years Coalition and Labor Governments, both federal and state, have spent almost A$2 billion ($2.5 billion) propping up Holden.
Last year the federal, South Australian and Victorian governments tipped in another A$275 million in exchange for keeping its Australian operations going.
In return, Holden is shedding a further 500 jobs and cutting annual production by about 10,000 cars.
Victoria and SA are furious. They have not yet handed over their funds to Holden, and say the company will not see a cent unless its adheres to the deal.
Holden has placed the blame firmly on the muscular Australian dollar, fierce competition from heavily-subsidised rivals, and falling domestic sales.
Gillard's own position has not been helped by continuing own-goals, most recently loose talk among senior ministers of changes to tax rules for superannuation which, in the absence of details, fuelled fear and anger.
By the time Treasurer Wayne Swan was forced into announcing that previously untaxed super earnings above A$100,000 would be taxed at 15 per cent, affecting a tiny number of Australians, the damage had been done.