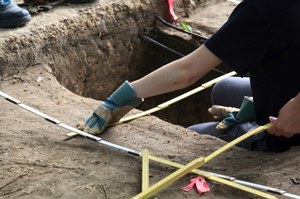 When archaeologists were called to a site in London where an ugly office block and a bar once stood, they were sceptical that it held any secrets.
Yet six months into the dig on Bloomberg Place, a 1.2ha site close to Mansion House tube station, experts believe they have stumbled across the most important recent find of Roman London artefacts and have dubbed it the "Pompeii of the north".
Sophie Jackson, from the Museum of London Archaeology, is managing the site. She said: "We have a huge amount of stuff from the first 400 years of London. It will tell us so much about the people of London. We will get names and addresses, things we've never had before. It's really exciting."
Archaeologists have so far discovered 8000 objects and expect that to rise to 10,000 by the time the project is finished. These include writing tablets, clothing, an amber amulet in the shape of a gladiator's head. and pottery as well as parts of buildings that will help build a picture of thriving London life from around 40 AD to the fifth century.
- Independent